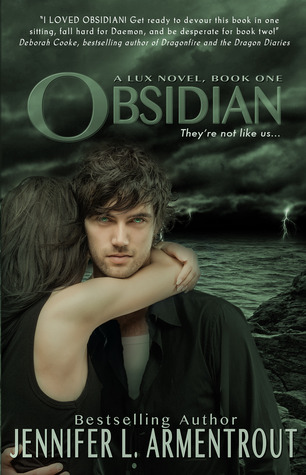 Starting over sucks.

When we moved to West Virginia right before my senior year, I'd pretty much resigned myself to thick accents, dodgy internet access, and a whole lot of boring… until I spotted my hot neighbor, with his looming height and eerie green eyes. Things were looking up.

And then he opened his mouth.

Daemon is infuriating. Arrogant. Stab-worthy. We do not get along. At all. But when a stranger attacks me and Daemon literally freezes time with a wave of his hand, well, something… unexpected happens.

The hot alien living next door marks me.

You heard me. Alien. Turns out Daemon and his sister have a galaxy of enemies wanting to steal their abilities, and Daemon's touch has me lit up like the Vegas Strip. The only way I'm getting out of this alive is by sticking close to Daemon until my alien mojo fades.

If I don't kill him first, that is.
Holy crap on a cracker! Obsidian by Jennifer L. Armentrout is freaking too amazing I can't even think of the words to describe it in this review. Anyway, my mind is seriously blown. I didn't expect myself to have such a joyous ride with this super alienated book that had me gasp for generous amount of air!
This book talks about seventeen year-old Katy Swartz who moved to a very discreet and rustic place in West Virginia with her mom. Being in that new place kind of sucked for Katy since she was used to the cheerful ambiance of her old home in Florida. But since she's a book freak, she didn't exactly care about adapting to the new place because she considered her books as her effective diversions. Now when she met her holy freakin' hot neighbor Daemon Black, everything changed. Never had she met a guy who's extremely blessed with ripped physique and undeniably gorgeous face. However, no matter how hot this neighbor was, she found him quite an ass. He always regarded her with pure disgust, to her astonishment. And as they developed an unexpected friendship, she eventually learned some peculiar things about him and his sister, Dee. In the long run, she learned that he was in fact, not a human. He's an alien. A hot damn alien with insane supernatural powers.
I must say that this book is incredibly great! No words can ever describe how talented Jennifer Armentrout is. This book is clean, well-written, and with fascinating characters that are nicely drawn. I admire how the author gradually introduced her audience to the strange and amazing alien family of Daemon. Each character has exceptional personality that will quickly capture one's interest.
I also love the romantic involvement of the story. As well as the witty humor that beats nearly every scene of other books I've read. Another thing is the exchange of banter between Katy and Daemon and their unawareness of the sexual tension that's always there. Ah, they are so amusing I could literally smile and laugh. Usually I really feel sick about "I Hate You" schemes of a love story but this one? I don't mind at all. I'm fully entertained by these two characters.
Let's get to the action part. Whoa! What can I say? Bravo, Ms. Jennifer Armentrout! You had my heart beating fast with the way you describe the fighting scenes between the Luxen and the Arum! Superb! I guess this is just the perfect blend of action and romance in a science fiction book.
The Book Is…
Pros
Quick and entertaining, with reasonable plot and interesting world building.
Con
Nothing. At all.
What I Think about the Characters
Katy Swartz
She's clever and smart. One thing I also admire about her is her love for books. And hey, she's my ultimate inspiration with this blogging thing. She's a book blogger– that's how crazy she is about it and I can totally relate!
Daemon Black
Well, he's too perfect to be true. Need I say more? And although he's kind of brute here in this book, I didn't find it hard to like him. What I also love about him is his protectiveness to his sister and his alien close friends. He's just too swooning! Okay, I have to stop this. I'm fan-girling enough.
My Rating for this book: 5 Daemon Stars! (It's a must-read, entertaining story. If you're looking for a book that will knock your socks off, this one will never, ever fail you.)
Favorite Quotes from this Book
"Beautiful face. Beautiful body. Horrible attitude. It was the holy trinity of hot boys."
"I hate you and your freaky alien powers."
"I was always able to lose myself in reading. Books were a necessary escape I always gladly jumped into headfirst."
Rating:
Buy this book at: