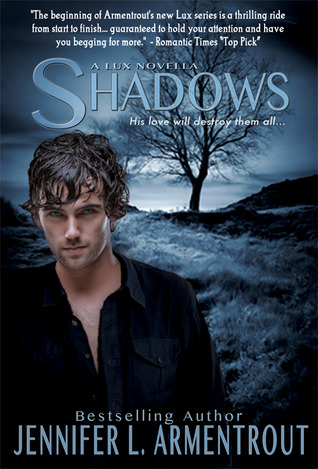 The last thing Dawson Black expected was Bethany Williams. As a Luxen, an alien life form on Earth, human girls are…well, fun. But since the Luxen have to keep their true identities a secret, falling for one would be insane.
Dangerous. Tempting. Undeniable.
Bethany can't deny the immediate connection between her and Dawson. And even though boys aren't a complication she wants, she can't stay away from him. Still, whenever they lock eyes, she's drawn in.
Captivated. Lured. Loved.
Dawson is keeping a secret that will change her existence…and put her life in jeopardy. But even he can't stop risking everything for one human girl. Or from a fate that is as unavoidable as love itself.
MY THOUGHTS…
Well, let me start this review by saying that this book, a prequel of Obsidian, is better than expected. After reading the Obsidian, I immediately grabbed this book since I became interested with Dawson's love story and his involvement with Bethany. These lovers, by the way, were introduced in Obsidian– and the way their love affair was described seemed interesting and awe-inspiring.
But before I move on, I think I should warn fellow readers NOT to read this book unless you have read the Obsidian. Again, read this once you finish Obsidian, k? Because believe me, you'll appreciate this book more after reading the Obsidian because everything will make a lot more sense.
Moving on, I find Shadows quite a sweetheart. And I'm glad I read this because I did have the better view of what basically happened to Dawson and Bethany right before Katy appeared in the picture. At the beginning, I saw the heart-tugging bond the Black siblings share and I was greatly touched. And when Bethany came into the picture, I've witnessed how Dawson's world tumbled upside down.
"She. Spoke. To. Him. First. It was like winning the lottery, getting laid, and climbing the highest cliff all rolled into one. But he needed to play it cool, because he was trending into lame-o land at a quick pace."
Actually, these lovers are so cute together! I love their chemistry. The way Ms. Jennifer described their personalities and physical traits made me think that these two are perfectly made in heaven, they simply just click! Other than the chemistry, I also love the way they show their affection to each other– in a PDA way. And oh well, Dawson doesn't really hesitate to do a PDA thing, I. JUST. LOVE. IT! Oh God, I literally melt. How I wish they had a happy ending love story. But since I already knew in Obsidian that their love story had a tragic finale, I wasn't entirely devastated. But still, still– it hurt! 😥
This book also made me understand why Daemon hated humans in Obsidian and why he typically pushes Katy to stay away from Dee. It's an enlightening book. All in all, this book filled me with love, sorrow, and heartbreak that I needed to really cope up the moment I was done.
The Book Is…
Pros
Deeply moving and beautifully written. The emotional details Jennifer placed in this book are really effective I could feel how Dawson and Beth's feelings grew into more than an attraction. There's romance, drama, and exhilarating parts of this book that you can never easily forget.
Con
I think the only negative thing about the book is the tragic ending. Nothing else. (And it doesn't affect my rating) 🙂
What I Think About the Characters
Bethany Williams
I love how Bethany accepted Dawson despite the fact that he's not human. I also admire her for being so involved with arts and paintings and stuffs. She's an interesting character.
Dawson Black
Although Dawson is not as strong as Daemon, I believe he's a perfect guy. He's very caring, protective, and absolutely a hottie. I also love how he proved his feelings for Bethany despite all the protests he got from Daemon and the rest of the Luxen gang.
My Rating for this Book: 5 Stars (It's a highly-recommended book!)
Favorite Quotes from this Book
"Love of sugar had to mean true love. It just had to."
"I love you, Dawson. I love who you are, what you are. And I don't think love recognizes differences. It just is. And we really aren't that different."