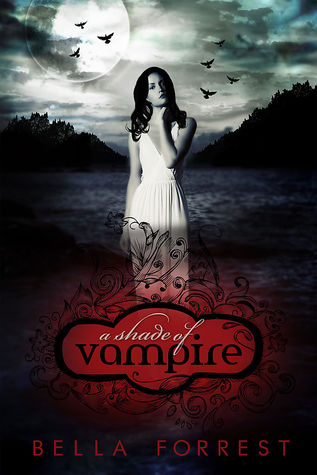 On the evening of Sofia Claremont's seventeenth birthday, she is sucked into a nightmare from which she cannot wake.
A quiet evening walk along a beach brings her face to face with a dangerous pale creature that craves much more than her blood.
She is kidnapped to an island where the sun is eternally forbidden to shine. An island uncharted by any map and ruled by the most powerful vampire coven on the planet. She wakes here as a slave, a captive in chains.
Sofia's life takes a thrilling and terrifying turn when she is the one selected out of hundreds of girls to join the harem of Derek Novak, the dark royal Prince.
Despite his addiction to power and obsessive thirst for her blood, Sofia soon realizes that the safest place on the island is within his quarters, and she must do all within her power to win him over if she is to survive even one more night.
Will she succeed? …or is she destined to the same fate that all other girls have met at the hands of the Novaks?
MY THOUGHTS…
After reading this book's description, it instantly hooked me. Always a vampire-themed book fan myself, I decided to give it a try since I've always hoped that there's a better series than Twilight and Vampire Diaries. And I wasn't disappointed. This book started really well. Its main POVs centered more on the main characters Sofia and Derek.
Sofia is an ordinary girl and a human, while Derek is a Vampire– not just an ordinary vampire but someone everyone in the vampire community looks up as a ruler and a great influence– a dark royal Prince. On the eve of Sofia's birthday, she was captured by a stranger and ended up in an exotic island called The Shade. She eventually found out that the island is completely resided by vampires. There she met Prince Novak and his siblings. Now I'm not going to tell the whole story 'coz it will spoil a lot.
This book, anyway, is a charmer. What I appreciate most is the way Ms. Bella Forrest painted beautiful details about the setting. The Shade, although completely conquered with darkness, is a beautiful place. I think it's a great factor when you're reading a vampire book. I also love the way the author made it quite unique among other vampire stories.
In this sequel, vampires are set in a different world. They don't mix with humans like any other vampires in other books. They have their own niche and sanctuary and they hunt humans outside the island, giving a little mystery as of how those humans suddenly disappear.
"What's on your mind, Derek?" she whispered.
"You…" I saw no reason to lie. "How I can't imagine life without you."
I also love the romance between Sofia and Derek, too. How their first encounter developed into a strange attraction that is so adorable! Also, the ending– it's unique and unexpected. It simply promises so many things that will happen on the second book.
Pros
Heart-melting and interesting, with characters that are well-described. It's an engaging book especially since it has an extraordinary fast and intriguing plot.
Con
It has a number of POVs. It may cause a little confusion at first.
What I Think About the Characters
Sofia Claremont
I love how strong-willed she is. She's also not annoying. She makes good decisions and she's not a stupid, angsty character like any other characters in a book.
Derek Novak
Well, ladies… Meet your new book boyfriend! Derek Novak is a dangerously a HAWT vampire Prince. But apart from being a cold-hearted specimen, this guy has a soft spot. And the way he cares about Sofia and protects her? Ah, he's simply more than just likeable character!
"I found myself intrigued by Derek – even more so than I was before. He was a paradox, a walking contradiction. How he could perform such a violent act with no hesitation in one moment and be as gentle as he was with me right afterwards, was something that left me completely unnerved." – Sofia
My Rating for this Book: 4 Stars (A piece of reminder: Prepare to be swooned!)