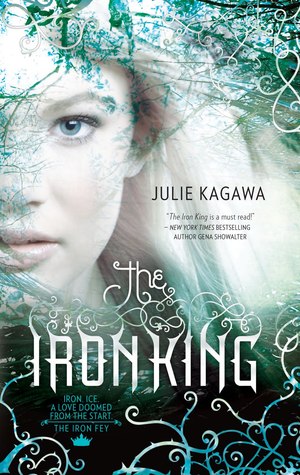 Meghan Chase has a secret destiny; one she could never have imagined.
Something has always felt slightly off in Meghan's life, ever since her father disappeared before her eyes when she was six. She has never quite fit in at school or at home.
When a dark stranger begins watching her from afar, and her prankster best friend becomes strangely protective of her, Meghan senses that everything she's known is about to change.
But she could never have guessed the truth – that she is the daughter of a mythical faery king and is a pawn in a deadly war. Now Meghan will learn just how far she'll go to save someone she cares about, to stop a mysterious evil, no faery creature dare face; and to find love with a young prince who might rather see her dead than let her touch his icy heart.
MY THOUGHTS…
So I finished reading this book last night and I have to say that it's surprisingly amazing. To be honest, I didn't have any great expectations with this book 'coz I imagine faery stories sort of boring, but since its book description was quite intriguing, I decided to give it a try. I have to say that I was really glad I picked this book as my first faery-theme read. I had never encountered faery books and I say that The Iron King, without a doubt, made me believe that these stories are spectacular.
Although it relates a typical faery story, it had me smitten straight away. It started out slow, and bit by bit it became a thrilly, adrenaline-rushing adventure that got really exciting!
The plot is pretty impressive. Julie Kagawa draw the series of scenarios in an exhilarating approach. I love the adventure Meghan Chase experienced in this book. The episodes where she met different faerie creatures that are spellbinding and amusing at the same time. The way she had her death-defying moments that had me gasped and feeling nervous. Well, that was a stirring ride!
And oh, let me tell you that I love every character in this book. I love Meghan. She's so strong-minded and very determined to get her brother back. And what I love about her is her selflessness. She doesn't want to kill 'coz guilt is always in her system. At first, she's a bit irritating because she's so helpless and she doesn't know what to do and how to deal with dangerous situations, but she eventually improved, especially in the last chapters. She became braver and braver.
Sorry to disappoint you, I thought, seeing their brown knit with confusion. But after facing the homicidal goblins, knights, and evil faeries, you aren't that scary anymore.
Prince Ash. Well, well, well– This guy. Is. Just. Irresistible. What more can I say? He's a cold, quiet, and dangerous guy but it can't be denied that when it comes to Meghan, he's a different person. He's a protective guy, although he doesn't want to admit it. And yes, he's beautiful, in a dark, mysterious way.
He was devastatingly gorgeous, dressed all in black, his pale face seeming to float over the ground. I remembered the way he smiled, the look in his silver eyes as we danced. He wasn't smiling now, and his eyes were cold. This wasn't the prince I'd danced with Elysium night; this wasn't anything but a predator.
Puck. Well, this character is surprisingly stunning. At first, I didn't expect anything from him. I even thought about the usual, bestfriend-of-the-main-character-love-triangle-thingy-that-sucks but oh my God, for the first time in my life, I felt thrilled about the "love triangle" potential which involved Puck. Puck is just so amazing and I love him. I love his funny, witty comments and the way he exchanges banters with Ash. He really amuses me.
"Hi, Princess. Sorry I'm late. Traffic was a bitch." He winked at me, then shot a glance at the winter sidhe, standing in the doorway. "Hey, Shard." He waved. "Nice place you've got here. I'll have to remember it, so I can give it the special 'Puck touch'."
Grimalkin. Oh, dear– this character is already listed on my favorite book characters. He's a smart a** pet. I also imagine him as an attractive, boyish cat. His cleverness really makes him just adorable!
"Bravo," said Grimalkin, peering down from Cold Tom's chest. "The Winter prince and Oberon's jester agreeing on something. The world must be ending."
Another thing that I really love about this book is the mystery. All throughout the book I found myself thinking and producing wild guesses. Every chapter leaves me hanging with questions!
And the romance–well, Meghan and Ash. These characters have chemistry. And the sexual tension is so resilient I just can't! One thing I just don't like is that it keeps me wanting more. I want more of them together.
"Sorry, your Highness, I didn't know she was yours, My apologies. No harm done, okay?"

"No one touches her," Ash said, his voice coated with frost. "Touch her, and I'll freeze your testicles and put them in a jar. Understand?"
Sorry to flood you with quotes. I can't help it. I love those scenes! ❤
Anyway, the ending of the book was also outstanding. It simply left me craving for the second installment which is The Iron Daughter. Well, well, Julie Kagawa. I'm already a fan!
My Rating for this book: 5 Faery Stars! (I love everything in this book!)