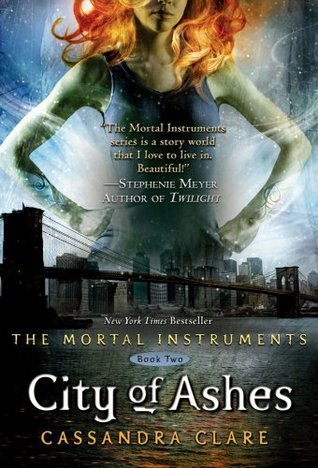 Clary Fray just wishes that her life would go back to normal. But what's normal when you're a demon-slaying Shadowhunter, your mother is in a magically induced coma, and you can suddenly see Downworlders like werewolves, vampires, and faeries? If Clary left the world of the Shadowhunters behind, it would mean more time with her best friend, Simon, who's becoming more than a friend. But the Shadowhunting world isn't ready to let her go — especially her handsome, infuriating, newfound brother, Jace. And Clary's only chance to help her mother is to track down rogue Shadowhunter Valentine, who is probably insane, certainly evil — and also her father.
To complicate matters, someone in New York City is murdering Downworlder children. Is Valentine behind the killings — and if he is, what is he trying to do? When the second of the Mortal Instruments, the Soul-Sword, is stolen, the terrifying Inquisitor arrives to investigate and zooms right in on Jace. How can Clary stop Valentine if Jace is willing to betray everything he believes in to help their father?
In this breathtaking sequel to City of Bones, Cassandra Clare lures her readers back into the dark grip of New York City's Downworld, where love is never safe and power becomes the deadliest temptation.
MY THOUGHTS…
(Spoilers ahead…) 🙂
This book is insanely amazing! I must say it's just as good, or better than the City of Bones. It didn't let me put it down easily, especially when I was at the last remaining chapters. I didn't really mind how lengthy those chapters were to be honest because I thoroughly enjoyed every single moment of the book.
It kept my adrenaline going. It's such a thrilly, freaking amazing flight! I love how the characters developed more in this book. Simon turning into a vampire, the introduction of the new werewolf kid Maia, and the hot-damn shadowhunter Malik (although he wasn't completely highlighted in this sequel), the digging out of Luke's real feelings towards Clary's mom, Jace's struggle to keep his feelings for his 'sister', Imogen Herondale's mysterious words to Jace at the end, Magnus and Alec (oh my God, Magnus and Alec??!), and especially– my most favorite scene– the kissing scene at the Seelie Court when they met the Queen! What was that?! This book is making me insane!
It also has lots of funny moments. I found myself literally lolling like an idiot while reading those parts, especially the part where Simon and Jace continued their annoying yet amusing banter. And that Magnus and Alec's confusing 'thing' over there. This book is such an entertaining one!
I didn't really regret diving into the world of Mortal Instruments. As I've said, this second installment is quite better than the first book. But while it's an awesome continuation of the City of Bones, I'm a bit upset.  It could have gotten more than 4 stars but then, I thought I wanted more. There are still questions that are hanging, but of course, that's part of Cassandra Clare's scheme to make us lured into the next book, but I was really, really desperate to find out the answers to my questions. This book didn't provide me those, so I was kinda sad. 😦 I guess I really have to extend my patience and read the next book to be able to know what's really Jace and Clary's real relationship because I really don't believe they're siblings. Seriously! I also didn't like how Jace and Clary's conversation ended during the last part of the book. It's heart-shattering I literally cried. Why, I feel for Clary. 😦
The ending was also a cliffhanger. I don't blame the author for doing that though. Maybe I'm already quite immune to those kinds of endings. In fact, I'm already expecting cliffhanger endings every time I delve into a series. Well, well, life's just like that. Right now, I'm itching for the next book City of Glass. I want to see where all these goes. 🙂
My Rating for this Book: 4 Stars (This book is totally worth reading!)
Favorite Quote from this Book
"If you really love something, you never try to keep it the way it is forever. You have to let it be free to change."