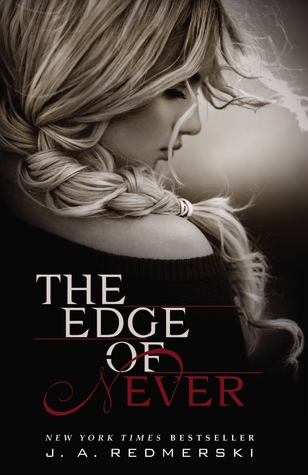 The Edge of Never
(The Edge of Never #1)
Author: J.A. Redmerski
Publisher: Createspace
Published: November 15, 2012
Genre: New Adult, Romance, Contemporary
My Rating:
Twenty-year-old Camryn Bennett had always been one to think out-of-the-box, who knew she wanted something more in life than following the same repetitive patterns and growing old with the same repetitive life story. And she thought that her life was going in the right direction until everything fell apart.
Determined not to dwell on the negative and push forward, Camryn is set to move in with her best friend and plans to start a new job. But after an unexpected night at the hottest club in downtown North Carolina, she makes the ultimate decision to leave the only life she's ever known, far behind.
With a purse, a cell phone and a small bag with a few necessities, Camryn, with absolutely no direction or purpose boards a Greyhound bus alone and sets out to find herself. What she finds is a guy named Andrew Parrish, someone not so very different from her and who harbors his own dark secrets. But Camryn swore never to let down her walls again. And she vowed never to fall in love.
But with Andrew, Camryn finds herself doing a lot of things she never thought she'd do. He shows her what it's really like to live out-of-the-box and to give in to her deepest, darkest desires. On their sporadic road-trip he becomes the center of her exciting and daring new life, pulling love and lust and emotion out of her in ways she never imagined possible. But will Andrew's dark secret push them inseparably together, or tear them completely apart?
MY THOUGHTS…
This book has a lot of potentials. I love how J.A. Redmerski created something different compared to other romantic and contemporary novels. At first, I expected the story to be quite dull and boring. Two strangers traveling together? It sounds cool but I don't think it encourages romance between the two characters, yet I was wrong because all the while, the romantic development between Camry and Andrew was fascinating.
The first portions of the book was quite slow and a bit tedious but during the middle part, the real picture of the love story was clearer, so somehow I was able to determine the real sense of the plot.
The interesting part of the story is how the author introduced the characters. Camryn, a 20 year-old girl, is in a soul-searching mission and she needed to get away from home and travel alone to find her share of happiness after dealing with difficult circumstances of her life. Andrew, on the other hand, is also in the same boat with Camryn. So it's not at all difficult to make a connection for the two characters.
Actually, I love Camryn and Andrew. Their chemistry is very evident and I think they're perfect together. They share the same passion most especially when it comes to music. Their story isn't also an "insta-love" kind of thing since they first got along each other before they actually fell in love.
What serves as a drawback here is that there are scenes that are way too hard to believe. I understand that this is a work of fiction but I also get the point that it's also based on reality. But I rather found some scenes quite overly exaggerated. It's also hard to believe that Andrew or Camryn will instantly trust each other after what, two days of being together at the bus?
Their friendship-turned-into-relationship thing is special, yet their emotional and sexual dependence to each didn't sit well on me. I also think there's an emotional obsession between them and for me, it's not at all healthy. I can't imagine how Camryn could not breathe without Andrew. It seems to me like she really can't survive the rest of her trip without him. I don't think that's a good character development.
Anyways, the book is great. One thing I do appreciate about it is the fact that it's VERY WELL WRITTEN. There's humor to it and most parts are entertaining. And also, the romance is scorching hot you will definitely be carried away. I also didn't expect the twist at the near-end chapter. Whoa, didn't expect that coming!
This book, by the way, is the first book of the sequel so there's a second book waiting, The Edge of Always – which is the thing that I'm going to read anytime real soon. 🙂
My Rating for the Book: 4 Stars (It's an amazing read!)
Favorite Quotes from this Book
"I can't think of anything in this world I'd rather do than to see it with you. We belong on the road. Together. It's where I want to be."

"Just because one person's problem is less trraumatic than another's doesn't mean they're required to hurt less."