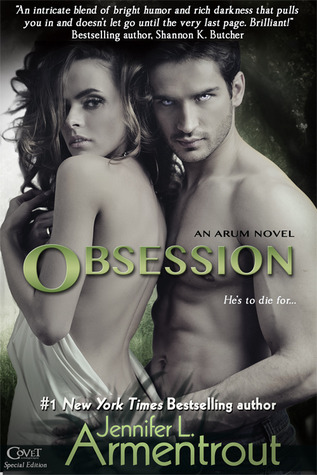 Obsession
Author: Jennifer L. Armentrout
Publisher: Entangled: Covet
Published: May 21, 2013
Genre: Fantasy, Paranormal, Romance, Science Fiction, New Adult
My Rating:
This is a stand alone novel that is an adult spin-off of the Lux Series You do not need to read a Lux book to read Obsession and vice versa.
He's arrogant, domineering, and… To. Die. For.
Hunter is a ruthless killer. And the Department of Defense has him firmly in their grasp, which usually doesn't chafe too badly because he gets to kill bad guys. Most of the time he enjoys his job. That is, until he's saddled with something he's never had to do before: protect a human from his mortal enemy.
Serena Cross didn't believe her best friend when she claimed to have seen the son of a powerful senator turn into something… unnatural. Who would? But then she witnesses her friend's murder at the hands of what can only be an alien, thrusting her into a world that will kill to protect their secret.
Hunter stirs Serena's temper and her lust despite their differences. Soon he's doing the unthinkable—breaking the rules he's lived by, going against the government to keep Serena safe. But are the aliens and the government the biggest threats to Serena's life… or is it Hunter?
MY THOUGHTS…
Jennifer L. Armetrout did it again! I think there's no such dull book that she has written. Everything in Obsession is a real treat!
This spin-off book from Lux series really took my breath away. As expected, there are a lot of action scenes that are intense and adrenaline-pulling. The male character, Hunter, (whom we met during the Origin book), is without a doubt, one holy smoke of a hot specie! He's strong– and stronger than I've really expected. I love the fact that he's always able to defend Serena and he doesn't give a damn about the DOD even when he's connected to them.
Serena, on the other hand, is a headstrong female character. As human, she's expected to be vulnerable and weak– and she is, but I admire her fearlessness when facing stressful and frightening situations.
I was also surprised about how HOT this book is. I mean, literally hotness overload! I expected the steamy scenes after reading the synopsis but what I didn't expect was yeah– the bed scenes were really, really intense!
Other than that, the book offers important info and details regarding the Arum and Luxen community. I've learned something which wasn't mentioned in Lux series books, and I'm glad that I've read it first before heading to Opposition, which is the last and final book of the series.
Maybe the only thing that made it not so perfect for me was because of its vague conclusion. The future isn't so certain for both Serena and Hunter, and the Luxen community still has secrets that are not yet clear, which I believe will be revealed in Opposition. But, yeah, the important thing is they're together in the end. And maybe that's all that really matters. 🙂
All in all, the book is great. It's hands down romantic, hot, action-packed, and very well-written. Well, it's Jennifer L. Armentrout, guys. I'm not surprised. 🙂 She's one of my favorite authors!
My Rating for this Book: 4 Stars
Favorite Lines from the Book
"Loving him was wrong in all the right ways."

"She was light against my darkness."