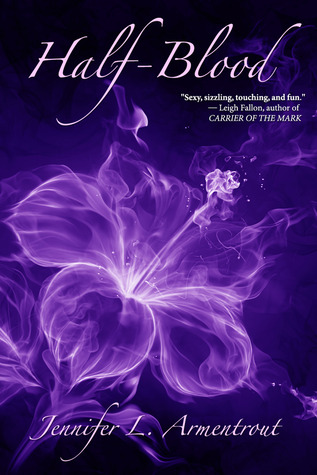 Half-Blood
(Covenant, #1)
Author: Jennifer L. Armentrout
Publisher: Spencer Hill Press
Published: October 18, 2011
Genre: Young Adult, Fantasy, Paranormal, Romance
My Rating:
The Hematoi descend from the unions of gods and mortals, and the children of two Hematoi pure bloods have godlike powers. Children of Hematoi and mortals–well, not so much. Half-bloods only have two options: become trained Sentinels who hunt and kill daimons or become servants in the homes of the pures. Seventeen-year-old Alexandria would rather risk her life fighting than waste it scrubbing toilets, but she may end up slumming it anyway. There are several rules that students at the Covenant must follow. Alex has problems with them all, but especially rule #1:Relationships between pures and halfs are forbidden. Unfortunately, she's crushing hard on the totally hot pure-blood Aiden. But falling for Aiden isn't her biggest problem–staying alive long enough to graduate the Covenant and become a Sentinel is. If she fails in her duty, she faces a future worse than death or slavery: being turned into a daimon, and being hunted by Aiden. And that would kind of suck.
MY THOUGHTS…
"The soul always knows… whether it's right or wrong…"
Well… I am at a loss for words. This book is all kinds of awesomeness!
First off, I haven't read any of the Vampire Academy books so I don't have any idea what the fuss (Covenant vs. Vampire Academy comparison) was all about but I figure out that this one's really, really awesome!
I've been a fan of JLA ever since I've read her Lux series, so the familiar feeling of fangirling with her characters suddenly came back to me the moment I've read the Covenant series.
I know I should've read the Daimon (Covenant prequel) book first before Half-Blood but it's okay, I'll be reading it immediately after this. Lol.
Anyway, I love, love, love this book! The plot is fantastic, totally striking, and mysterious. The characters are also adorable and fun to know. Our heroine here, Alexandria or Alex or Lexie, is such a freakin' badass character and I like her! I love how independent she is and courageous no matter how her uncle and stepfather manipulate her. She's a perfectly strong character. And no matter how stubborn and crazy she is most of the time, I don't find it hard to like her.
Aiden St. Delphi– oh this guy is just totally swoon-worthy and HAWT, like hotness incarnate! I love his quiet, calm, but strong character.
And man, oh man, Seth! This guy.. ugh, is something. He really captivated me the moment he first entered into the scene. Such mystery he is. And man, is he not sexy. Well, both Aiden and Seth actually are, so I couldn't ask for more. Lol.
And speaking about Aiden and Seth, I love the silent testosterone battle that goes between them whenever they're around Alex. *squeals*! Ironic as it is, I've always loathed love triangles but this one is an exemption. I think it's an interesting and entertaining love triangle and I found myself enjoying the whole scene. 🙂
"Need covers itself with love. But need… need is never love."
I absolutely love the Grandma Piperi quotes! They are so deep and emotional they evoke feelings and just break your heart all at the same time.
And when it comes to the whole story itself, it's hands down amazing! I've been saying this a lot but JLA is pure talent and she doesn't fail me. She knows exactly how to draw her readers' attention without inviting them to sleep. And yes, once again, she makes me admire her effortless attempts to incorporate humor in her lines. She's really a downright fun, hilarious storyteller.
As a whole, I love this book to bits and I will really follow its sequels. 🙂
My Rating for this Book: 5 Bloody stars!