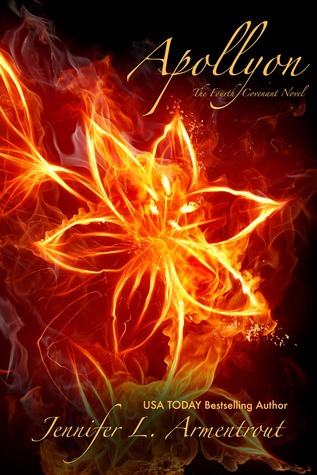 Apollyon
(Covenant #4)
Author: Jennifer L. Armentrout
Publisher: Spencer Hill Press
Published: April 4, 2013
Genre: Young Adult, Fantasy, Paranormal, Romance
My Rating:
Alex has always feared two things: losing herself in the Awakening and being placed on the Elixir. But love has always been stronger than Fate, and Aiden St. Delphi is willing to make war on the gods—and Alex herself—to bring her back.
The gods have killed thousands and could destroy entire cities in their quest to stop Seth from taking Alex's power and becoming the all-powerful God Killer. But breaking Alex's connection to Seth isn't the only problem. There are a few pesky little loopholes in the whole "an Apollyon can't be killed" theory, and the only person who might know how to stop the destruction has been dead for centuries.
Finding their way past the barriers that guard the Underworld, searching for one soul among countless millions, and then somehow returning will be hard enough. Alex might be able to keep Seth from becoming the God Killer… or she might become the God Killer herself.
MY THOUGHTS…
"I was the Apollyon. I was the beginning and the end."
This series is becoming better and more intense. In Apollyon, things are much dramatic with a lot more roller coaster-ride moments it basically had me need to catch my breath.
I admit that the first parts of this book are slow, but man, when I finally landed in the middle and especially the last parts of the book, it really did place my nerves on the edge!
This sequel honestly brings me right into the heart of action, drama, and a bit of mystery. There were more interactions from the gods (my favorite of all was Persephone) and more revelations, too. There were shocking events, especially about one of the professors of the Deity Covenant. Man, I didn't see that coming! (No intention of spoiling you, though.)
Aiden and Alex's love interaction also became more and more serious this time and I can't help but feel happy that they're being open when it comes to their relationship but I'm sad at the same time because there are still a lot of difficult things that are bound to happen for them.
Seth is physically out in the picture during the entire book and I kinda miss him. I really think there's still hope for him.
This book is a mixture of glee and sadness and hope. As a whole, I did enjoy it. And the ending? Well, that was great. I was so afraid it'd be a killer cliffhanger again, like what JLA used to bring with her Lux series, but this time it was a good enough and promising ending. I'm so excited for the final book, Sentinel!
My Rating for this Book: 5 stars