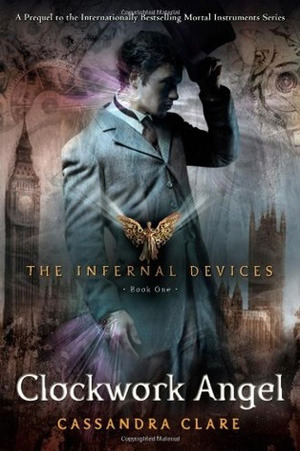 Clockwork Angel
(The Infernal Devices #1)
Author: Cassandra Clare
Publisher: Simon & Schuster, Margaret K. McElderry
Published: September 6, 2009
Genre: Paranormal, Historical Fiction, Young Adult
My Rating:
In a time when Shadowhunters are barely winning the fight against the forces of darkness, one battle will change the course of history forever. Welcome to the Infernal Devices trilogy, a stunning and dangerous prequel to the New York Times bestselling Mortal Instruments series.
The year is 1878. Tessa Gray descends into London's dark supernatural underworld in search of her missing brother. She soon discovers that her only allies are the demon-slaying Shadowhunters—including Will and Jem, the mysterious boys she is attracted to. Soon they find themselves up against the Pandemonium Club, a secret organization of vampires, demons, warlocks, and humans. Equipped with a magical army of unstoppable clockwork creatures, the Club is out to rule the British Empire, and only Tessa and her allies can stop them….
MY THOUGHTS…
"It's all right to love someone who doesn't love you back, as long as they're worth you loving them. As long as they deserve it."
I've been meaning to read this series after reading the City of Fallen Angels where Will Herondale was mentioned by Camille and Magnus Bane, that's why when I finally got a chance to, I experienced the instant feels! As a historical fiction fan, I find the Clockwork Angel quite fascinating, especially because the story focuses on the Shadowhunter world in the 1800's.
Clockwork Angel is nicely written. Although it was a bit slow at the beginning, still it didn't fail to capture my interest because of the mystery that lies in the book. Everything that happened here is unpredictable. There are lots of surprising events and the action scenes are impressively written.
When it comes to the characters, I really love Tessa Gray. Apart from having an extraordinary and strange ability, she's a tough character with a smart personality. (And not annoying, too) And oh, she loves literature so much! That's why liking her is not at all difficult.
Will Heronadale, on the other hand, is uh, an okay character, I guess. I'm not so sure if I like him. He's a brave and clever guy with a sarcastic-smartass personality which makes him totally the same with Jace in the TMI series. But I think I don't like the way he's too secretive. I guess I also expected him to do much effort to protect Tessa and to have at least more romantic interactions with her but so far, what I got was hesitation from him. I'm not so convinced if he's a great book boyfriend, though. Lol. Not now. Perhaps in the next books?
And Jem… Well, so far, this character stands out, in my opinion. I totally love this guy. The way he makes Tessa feel as though she's not different among the people in the Institute– it's swoon-worthy!
As a whole, this book is really impressive. The plotline is flawless and as mentioned, unpredictable– which are exactly the reasons why I am a Cassandra Clare fan. And the book quotations before each chapters begin– so delectable to the thoughts. 🙂 I love them!
My Rating for this Book: 4 Stars