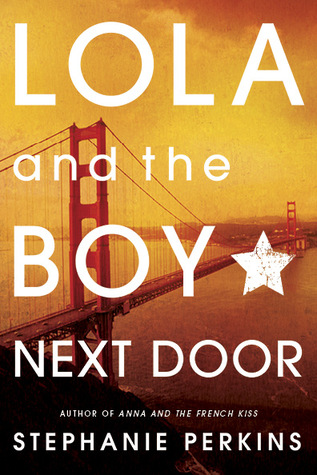 Lola and the Boy Next Door
(Anna and the French Kiss #2)
Author: Stephanie Perkins
Publisher: Speak
Published: July 9, 2013
Genre: Young Adult, Romance, Contemporary
My Rating:
Lola Nolan is a budding costume designer, and for her, the more outrageous, sparkly, and fun the outfit, the better. And everything is pretty perfect in her life (right down to her hot rocker boyfriend) until the Bell twins, Calliope and Cricket, return to the negihborhood. When Cricket, a gifted inventor, steps out from his twin sister's shadow and back into Lola's life, she must finally reconcile a lifetime of feelings for the boy next door.
MY THOUGHTS…
Nope. Not really liking it. I'm so sorry guys… 😦 Yes, it's funny and entertaining but nope. I actually expected too much from this book because I really love Anna and the French Kiss, but Lola… I don't know if it's me or anything but I couldn't connect with Lola's character.
I get it that she wants to be different that's why she chooses to wear out-of-the-ordinary costumes but I think it kind of disturbs me. I also don't like the way she acts immature most of the time. And there's this self-centered attitude of hers that did not also sit well on me. Also, I hate the way she overreacts to anything. And she cries a lot, too, which annoys me.
Cricket– this guy is a promising character, yet I didn't find myself swooning over him. The good thing about him is that he's too good and perfect– way too good for Lola to the point that I pity him most of the time because he's always there for her, chasing after her, and almost crying his feelings out loud for her, but Lola continues to get confused even if her boyfie is clearly a bad influence.
I know most of you really love Lola and the Boy Next Door, but for me, it's kind of overrated, I guess. There are things that are cliché and unrealistic. The plot is also predictable and I think there aren't any interesting scenes that made me totally swoon– which are the things that I'm really expecting in a contemporary book. But as a whole, it's an entertaining read. Not as good as Anna and the french Kiss, though.
My Rating for this book: 2 Stars