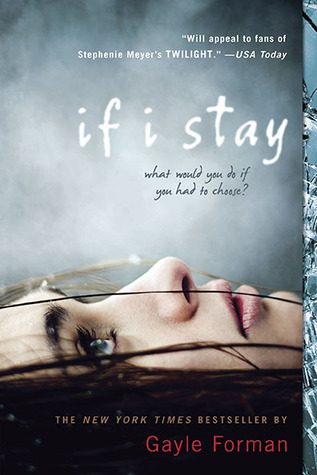 If I Stay
(If  I Stay #1)
Author: Gayle Forman
Publisher: Speak
Published: April 6, 2010
Genre: Young Adult, Romance, Contemporary
My Rating:
The critically acclaimed, bestselling novel from Gayle Forman, author of Where She Went, Just One Day, Just One Year, and the forthcoming I Was Here.
On a day that started like any other, Mia had everything: a loving family, a gorgeous, admiring boyfriend, and a bright future full of music and full of choices. In an instant, almost all of that is taken from her. Caught between life and death, between a happy past and an unknowable future, Mia spends one critical day contemplating the only decision she has left. It is the most important decision she'll ever make.
Simultaneously tragic and hopeful, this is a romantic, riveting, and ultimately uplifting story about memory, music, living, dying, loving.
MY THOUGHTS…
"Sometimes you make choices in life and sometimes choices make you."
This book is brilliantly done. Normally I don't expect myself to get caught up in tragedy stories but this one is an exemption. I was greatly enthralled by Gayle Forman's writing style. It's well-written and it's too emotional you definitely have to read the lines all over again because they simply hit you.
The plot was short but sweet. I love the flashback kind of writing and it very well made me feel driven to the story. Mia is a likable character and I can very well connect with her most of the time.
For me, it's an amazing, beautiful, and unforgettable book. It teaches life lessons about family, career choices, and relationships. It's one of the books that really make a lot of sense. All in all, If I Stay is simply a must-read!
My Rating for this Book: 5 Stars