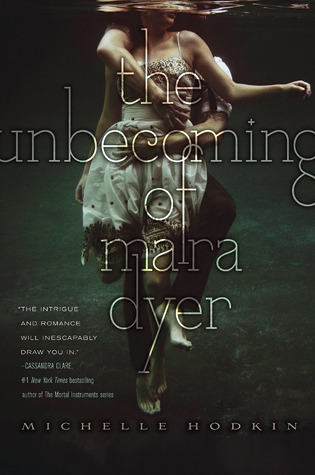 The Unbecoming of Mara Dyer
(Mara Dyer #1)
Author: Michelle Hodkin
Publisher: Simon & Schuster Books for Young Readers
Published: October 23, 2012
Genre: Young Adult, Fantasy, Paranormal, Romance, Mystery
My Rating:
Mara Dyer doesn't think life can get any stranger than waking up in a hospital with no memory of how she got there.
It can.
She believes there must be more to the accident she can't remember that killed her friends and left her mysteriously unharmed.
There is.
She doesn't believe that after everything she's been through, she can fall in love.
She's wrong.
MY THOUGHTS…
I was a poison, and Noah was the drug that would make me forget it.
Holy smokes! What was that??! This book is absolutely surreal! The intrigue can really draw a reader in, as what Cassandra Clare testified in the cover. I love it! I love Noah Shaw and Mara Dyer and the mystery that this book is exuding.
I did have fun reading The Unbecoming of Mara Dyer. It's a kind of a paranormal thriller that makes you feel shaky inside. It's absolutely creepy and suspenseful. What I really thought about this book is that it's a certified page-turner! The way it intrigues you all throughout is outstanding. I even found myself raising a lot of questions as I read it because there are a lot of unclear things that just need to be answered.
The plot is irresistibly amazing. (Not  to mention that Noah Shaw is so damn hot. Yay!) No dull moments in this book to be honest. I love Michelle Hodkin's writing style. She has that ability to convince you not to put the book down! Aaaah what more can I say? This book is really interesting and I highly recommend you guys to start reading this if you haven't yet. 😀
My Rating for this Book: 5 Stars