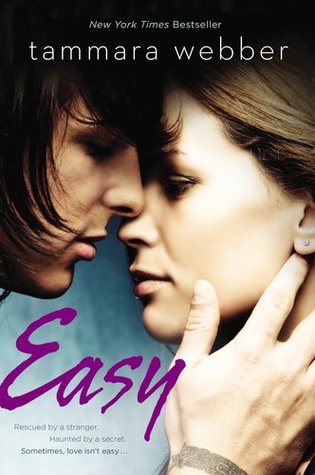 Easy
(Contours of the Heart #1)
Author: Tammara Webber
Publisher: Penguin Berkley
Published: November 6, 2012
Genre: Romance, New Adult, Contemporary
My Rating:
When Jacqueline follows her longtime boyfriend to the college of his choice, the last thing she expects is a breakup two months into sophomore year. After two weeks in shock, she wakes up to her new reality: she's single, attending a state university instead of a music conservatory, ignored by her former circle of friends, and failing a class for the first time in her life.
Leaving a party alone, Jacqueline is assaulted by her ex's frat brother. Rescued by a stranger who seems to be in the right place at the right time, she wants nothing more than to forget the attack and that night – but her savior, Lucas, sits on the back row of her econ class, sketching in a notebook and staring at her. Her friends nominate him to be the perfect rebound.
When her attacker turns stalker, Jacqueline has a choice: crumple in defeat or learn to fight back. Lucas remains protective, but he's hiding secrets of his own. Suddenly appearances are everything, and knowing who to trust is anything but easy.
MY THOUGHTS…
"Choosing to be with you isn't a difficult decision. It's easy. Incredibly easy."
I hate it when I don't like a book that everyone else loves because it does make me feel like I'm reading the wrong book. This book, in the first place, got my attention because of its interesting blurb and I have to say that unfortunately, I was a bit deceived. The premise is kinda misleading and it actually made me expect a bit of heavy drama over there. It turned out to be some sort of an "easy" book because halfway through it the characters just made a sensitive situation light and easy. And other characters were just talking nonsense that it feels like I'm just wasting my time.
This book, sadly, did not meet my high expectations. There was romance– actually there were a lot of steamy, romantic interactions between Jacqueline and Lucas but it seems as though it lacks something. The chemistry? The connection? Because I couldn't really connect with them and I found it hard to ship them together.
I also did have a difficult time getting into the author's writing style. There were things that are written that confuse me. Anyway, this book honestly has a great potential. It just did not get me. I was prepared to rate it 2 stars, but the satisfying ending made me rate it higher because after all, Tammara did not leave a cliffhanger ending. That's it. 🙂
My Ratings for this Book: 3 Stars