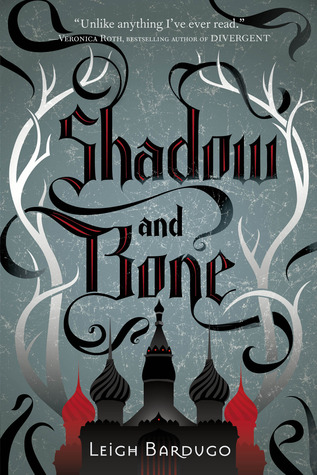 Shadow and Bone
(The Grisha #1)
Author: Leigh Bardugo
Publisher: Henry Holt and Co. (BYR)
Published: June 5, 2012
Genre: Fantasy, Young Adult, Romance
My Rating:
Surrounded by enemies, the once-great nation of Ravka has been torn in two by the Shadow Fold, a swath of near impenetrable darkness crawling with monsters who feast on human flesh. Now its fate may rest on the shoulders of one lonely refugee.
Alina Starkov has never been good at anything. But when her regiment is attacked on the Fold and her best friend is brutally injured, Alina reveals a dormant power that saves his life—a power that could be the key to setting her war-ravaged country free. Wrenched from everything she knows, Alina is whisked away to the royal court to be trained as a member of the Grisha, the magical elite led by the mysterious Darkling.
Yet nothing in this lavish world is what it seems. With darkness looming and an entire kingdom depending on her untamed power, Alina will have to confront the secrets of the Grisha . . . and the secrets of her heart.
Shadow and Bone is the first installment in Leigh Bardugo's Grisha Trilogy.
MY THOUGHTS…
"I've been waiting for you a long time, Alina. You and I are going to change the world."
Why didn't I read this earlier? Why wait for December when actually, this book was with me like three or four months ago and I've just kept it in my shelf without even thinking that this book could probably be my next favorite YA.
OMG, the feels I have with this book. It's no wonder why there are lots of positive remarks about this and it even gains high ratings on goodreads. Whoa!
I love everything in this book. The world building is damn fascinating and Leigh Bardugo is one helluvah talented writer. She creates a world that is beyond your imagination– a world so beautiful yet chaotically doomed at the same time.
Another thing I like about this book is that it has a pretty nice concept and beautiful characters. I like the witty dialogues and the fun those things brought to me while I was reading it.
The romance is also extraordinary, though I was entirely confused as to whom Alina's heart was really meant to in the first place. Do you smell a love triangle? Not to spoil you (because it's actually obvious in the blurb), but yes it's a love triangle thingy. I found myself okay with it though. 🙂
The one thing you could also not miss in this book is the intense action. This thing is really brilliantly done! It's like watching a high-grossing epic fantasy film.
Shadow and Bone– I'll tell you guys, is really awesome and worth a read. It's unbelievably well-written and it's a kind of YA-Fantasy that has all the elements to really make you feel obsessed. Right now, all I know is that I'm fangirling. 🙂
My Rating for this book: 5 Stars