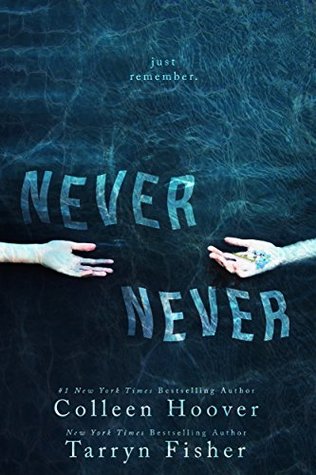 Never Never
(Never Never #1)
Author: Colleen Hoover, Tarryn Fisher
Publisher: Hoover Ink
Published: January 7, 2015
Genre: Romance, Young Adult, New Adult, Contemporary, Mystery, Fantasy, Paranormal
My Rating:
Best friends since they could walk. In love since the age of fourteen.
Complete strangers since this morning.
He'll do anything to remember. She'll do anything to forget.
MY THOUGHTS…
What. Was. That?!
I was not prepared for that little twist at the end and that major freaking cliffhanger ending!
When I started reading this, I did not have a clue what this was about. Its premise is indistinct and hazy but I thought I decide to just go with the flow and eventually find out what the hype is about..
Little did I know that it will interest me and more as the story goes by. The mystery is quite catchy. More like the Mara Dyer series, but in a different sense. I like it.
And knowing it's the work of my favorite author CoHo, well, that seals the deal. 🙂 Pretty much! I don't really have any idea about Tarryn Fisher's writing style because I was not able to read any of her books yet, so honestly, I can't quite determine and judge how good she is by reading this.
When it comes to the characters of this book, I love them, Silas and Charlie. They have that chemistry and they're kind of funny, too. Now when it comes to the overall storyline, it's good, but I guess it's not enough. I needed more. The plot is impressive (Thanks for CoHo and Tarryn's brilliant imagination), the sexy stuffs they incorporate here, but I was looking for more, I guess. (I wonder when the next book will come out?)
Anyway, I really had fun with this book. It's insane and beautiful in a f*cked up way. I love the unpredictability of the book and how it literally mind-blown the heck out of me. If you guys are up for a light yet intense, mind-boggling read, consider this one. Believe me, you'll freak out!
Ratings: 4 Stars