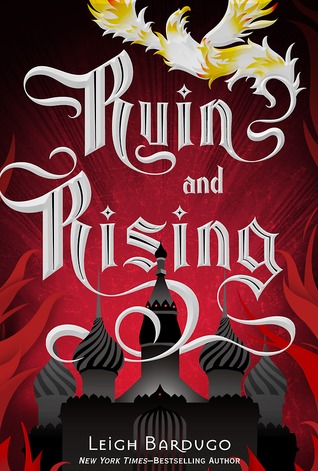 Shadow and Bone
(The Grisha #2)
Author: Leigh Bardugo
Publisher: Square Fish
Published: June 17, 2014
Genre: Fantasy, Young Adult, Romance
My Rating:
The capital has fallen.
The Darkling rules Ravka from his shadow throne.
Now the nation's fate rests with a broken Sun Summoner, a disgraced tracker, and the shattered remnants of a once-great magical army.
Deep in an ancient network of tunnels and caverns, a weakened Alina must submit to the dubious protection of the Apparat and the zealots who worship her as a Saint. Yet her plans lie elsewhere, with the hunt for the elusive firebird and the hope that an outlaw prince still survives.
Alina will have to forge new alliances and put aside old rivalries as she and Mal race to find the last of Morozova's amplifiers. But as she begins to unravel the Darkling's secrets, she reveals a past that will forever alter her understanding of the bond they share and the power she wields. The firebird is the one thing that stands between Ravka and destruction—and claiming it could cost Alina the very future she's fighting for.
MY THOUGHTS…
A masterpiece. A book that brings to life a magnificent, magical tale.
I couldn't think of better words to describe how I feel after reading this book. I'm so overwhelmed. This book is just simply spectacular! That ending— aaaah! I love it! That was so satisfying. The only thing that made me feel sad after reading this book is that it left me feeling nostalgic. I think I'm already having that so-called book hangover again.
I'd like to say congratulations to Leigh Bardugo (who by the way, made me feel happy yesterday because she noticed my Instagram post and she liked and made a comment there. Yay!) for giving such a nice conclusion to this series! Very, very wonderful and impressive, Ms. Leigh! Thank you so much because what I've expected is what I've really got.
So much had happened in this final Grisha book. There were lots of entertaining action scenes, dramas, and even revelations that finally made everything clear. I was surprised, shocked, saddened, and emotional. I already grew incredibly attached to this series so it's not that easy for me to just let it go.
What I've learned from this book and the entire series is that there's no such perfection in this world. Even the good ones, the Saints in particular, have dark sides. And of course, vice versa. Alina's character here is very wholesome. We might think she's perfect and always on the good side but the book described her as someone who has inner darkness and it either terrifies or overwhelms her. The Darkling, on the other side, is the same. I always have hopes that he's not entirely that bad and I think I was right in the end.
Darkness. You could hate it and hunger for it at the same time.
I really believe so. That's why this book has a lot of sense. It does not only talk about the things that revolve in fantasy. It's somehow based in reality. And it's what strikes me most.
Overall, this book is superb. And the entire series! And the best part? It's the "After" (Epilogue). That. Was. So. Surprising. Very epic and unforgettable. Once again, congratulations to the author. She so nailed an awesome ending. 🙂 I will surely read her upcoming book, Six of Crows!
Rating: 5 Stars