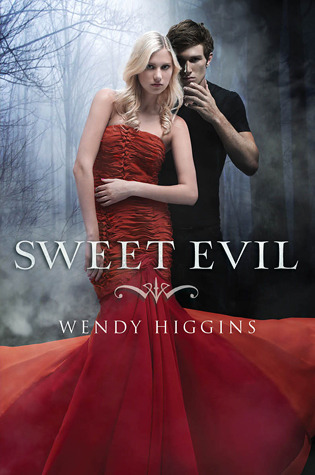 Sweet Evil
(The Sweet Trilogy #1)
Author: Wendy Higgins
Publisher: HarperTeen
Published: May 1, 2012
Genre: Young Adult, Fantasy, Paranormal, Romance
My Rating:
Embrace the Forbidden
What if there were teens whose lives literally depended on being bad influences?
This is the reality for sons and daughters of fallen angels.
Tenderhearted Southern girl Anna Whitt was born with the sixth sense to see and feel emotions of other people. She's aware of a struggle within herself, an inexplicable pull toward danger, but it isn't until she turns sixteen and meets the alluring Kaidan Rowe that she discovers her terrifying heritage and her willpower is put to the test. He's the boy your daddy warned you about. If only someone had warned Anna.
Forced to face her destiny, will Anna embrace her halo or her horns?
MY THOUGHTS…
"I was in love with him. And there wasn't a thing on earth, in heaven, or in hell that could have stopped me."
Can I start this review by saying that I'm totally fangirling right now? I love it so much! And I therefore conclude that Kaidan Rowe is my new book boyfriend!
Oh my God.. It's so hard to think of better words to describe my feelings for this book. First off, I really had high expectations with it since it has high ratings here in GR. Guess what? It actually exceeded my expectations. I was completely blown away!
I love the premise and how Ms. Wendy Higgins created such a brilliant and challenging spiritual concept about angels and demons. What struck me most was how the author also pointed some Biblical views on it. I love her ideas and how she thoroughly made a good research about the fallen angels and other creations. Isn't she perfect?
What's even great about this book is its unpredictability. The plot of this book surprises me a lot. It's intense! Ms. Higgins' writing style is really hands down beautiful!
Another thing that I particularly love about this book is the characters. Kaidan Rowe! Omg! Can you please stop being HOTT?! I love the bad-boy image of this guy. The one who is totally capable of giving me the feels. And Anna Whitt– well, I really love her character. She's not an annoying, angsty lead like other YA female characters. Her sweetness and kindness definitely win my heart I could hug her! Apart from Kaidan and Anna, I also love the other Neph– Kope, Marna, Ginger, and Blake. They're badass characters!
As a whole, this book is phenomenal. I highly recommend this one to every YA fan who loves Nephilim stories. P.S. I'm still in a book hangover right now. Couldn't stop thinking about this book. Need to move on to the second!
Rating: 5 Stars