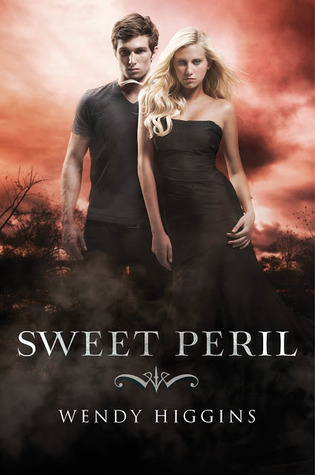 Sweet Peril
(The Sweet Trilogy #2)
Author: Wendy Higgins
Publisher: HarperTeen
Published: April 30, 2013
Genre: Young Adult, Fantasy, Paranormal, Romance
My Rating:
Anna Whitt, the daughter of a guardian angel and a demon, promised herself she'd never do the work of her father—polluting souls. She'd been naive to make such a vow. She'd been naive about a lot of things.
Haunted by demon whisperers, Anna does whatever she can to survive, even if it means embracing her dark side and earning an unwanted reputation as her school's party girl. Her life has never looked more bleak. And all the while there's Kaidan Rowe, son of the Duke of Lust, plaguing her heart and mind.
When an unexpected lost message from the angels surfaces, Anna finds herself traveling the globe with Kopano, son of Wrath, in an attempt to gain support of fellow Nephilim and give them hope for the first time. It soon becomes clear that whatever freedoms Anna and the rest of the Neph are hoping to win will not be gained without a fight. Until then, Anna and Kaidan must put aside the issues between them, overcome the steamiest of temptations yet, and face the ultimate question: is loving someone worth risking their life?
MY THOUGHTS…
"You bring out everything in me, little Ann. All of it."
What went wrong?
While the first book Sweet Evil was phenomenal, Sweet Peril seemed to be sort of a letdown. I don't know what to think. There was just too much going on in this book but most of those things are not important I don't think they should be included. The plot progression was a bit frustrating. And the first half was also a bit slow.
Apart from that, I find the forced love triangle quite unnecessary. Don't get me wrong. I love Kopano but I don't think he needs to be a love interest, too.
Aaaaand! Anna Whitt. Omg what happened to this sweet and likeable girl in the first book? Her obsession with Kaidan was too overbearing here.
*breathes heavily*
I don't like girls who are soooo obsessed with a guy. And Anna was just that kind of girl in this book. 😦 She even had the tendency to be easily affected whenever Kaidan is around and I guess that's my major issue here.
Kaidan, on the other hand, was quite a jerk– well, most of the time. His constant avoiding games irritated me. I don't like what he was doing to Anna during the first parts of this book. Thankfully, he was able to come to his senses during the later part. Still, I am not a fan of his behavior in this book.
But anyways, some parts of this book are otherwise interesting. The introduction of new characters like Zania and Caterina, the epic prologue, and Blake and Flynn's amusing personalities.
As a whole, this book is not so good for me. But it's not bad either. I still found myself enjoying some parts of it. 🙂
Rating: 3 Stars