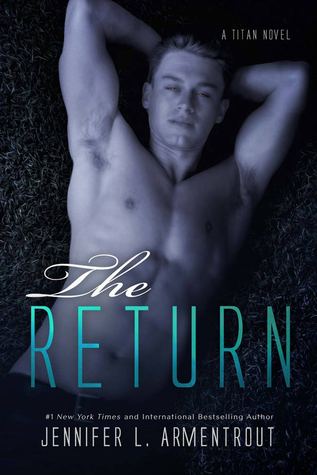 The Return
(Titan #1)
Author: Jennifer L. Armentrout
Publisher: Spencer Hill Press
Published: February 16, 2015
Genre: New Adult, Fantasy, Paranormal, Romance
My Rating:
The Fates are cackling their bony asses off…
It's been a year since Seth made the deal with the gods that pledged his life to them. And so far, the jobs they've given him have been violent and bloody–which is kind of all right with him. But now Apollo has something else in mind for Seth. He's got to play protector while keeping his hands and fingers off, and for someone who really has a problem with restraint, this new assignment might be the most challenging yet.
Josie has no idea what this crazy hot guy's deal might be, but it's a good bet that his arrival means the new life she started after leaving home is about to be thrown into an Olympian-sized blender turned up to puree. Either Josie is going insane or a nightmare straight out of ancient myth is gunning for her.
But it might be the unlikely attraction simmering between her and the golden-eyed, secret-keeping Seth that may prove to be the most dangerous thing of all.
Because history has once again been flipped to repeat.
Book 1 in the new adult paranormal TITAN series, spin-off to the best selling COVENANT series.
MY THOUGHTS…
"You're just… you're just Seth."
A tremor moved through his arms. "And you… you're just my salvation."
I've waited months just to have this book and finally read Seth's side of the story, after enjoying the whole Covenant series. And after reading it, gods! I could not moved on. Literally. There were so many emotions packed into this book. SETH!
Once again, JLA made my heart swell with so much love for her characters. Seth, is no doubt, Seth. A strong, hot Apollyon whom I rooted for Alex during the Covenant series but sad to say… Well, anyway, I am glad because in this book, this dude finally met his match. The one and only Josie Bethel who is a totally likeable character. I like her so much! She's not as badass as Alex nor a strong one, but she is freakin' cool! I love how she withstands her perfectly chaotic situation, being a demigod and all. (No, I'm not spoiling you because it was mentioned right at the very beginning chapters so yeah.)
This book basically made me recall and miss the Covenant series. Honestly. But I'm glad that some of the major characters were present here, like Luke and Deacon. The swoony couple who makes the world go heart-heart!
The book is overall fantastic. There is a perfect blend of action, drama, romance (like, real and steamy romance) yay! And I got to finally understand Seth better this time. This book is also full of humor. Of course, there were funny moments especially whenever Apollo appears and pops out suddenly. Lol.
To those who haven't read the Covenant series yet, I suggest you not to read this book yet. Delve into the Covenant series and finish it first, and then read this next, so as to avoid spoilers. 🙂
Note: Unlike the Covenant series which is a YA, The Return is totally different because it's labeled as NA, so expect some sexy scenes here. *winks*
Rating: 5 Star