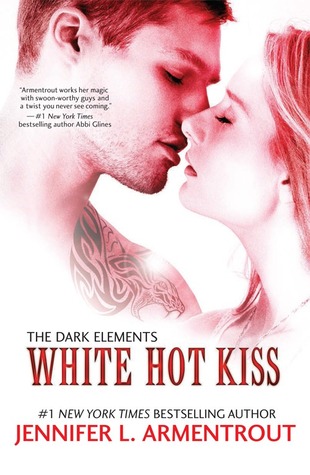 White Hot Kiss
(The Dark Elements #1)
Author: Jennifer L. Armentrout
Publisher: Harlequin Teen
Published: February 25, 2014
Genre: Young Adult, Fantasy, Paranormal, Romance
My Rating:
One kiss could be the last
Seventeen-year-old Layla just wants to be normal. But with a kiss that kills anything with a soul, she's anything but normal. Half demon, half gargoyle, Layla has abilities no one else possesses.
Raised among the Wardens—a race of gargoyles tasked with hunting demons and keeping humanity safe—Layla tries to fit in, but that means hiding her own dark side from those she loves the most. Especially Zayne, the swoon-worthy, incredibly gorgeous and completely off-limits Warden she's crushed on since forever.
Then she meets Roth—a tattooed, sinfully hot demon who claims to know all her secrets. Layla knows she should stay away, but she's not sure she wants to—especially when that whole no-kissing thing isn't an issue, considering Roth has no soul.
But when Layla discovers she's the reason for the violent demon uprising, trusting Roth could not only ruin her chances with Zayne…it could brand her a traitor to her family. Worse yet, it could become a one-way ticket to the end of the world.
MY THOUGHTS…
"You need something," he said, and when I stared at him, he added, "Your face."
"My face?"
"It's in need of my kisses."
Who would've thought that demons are kind of hot? *sigh*
If there's one thing that makes this book beautiful and interesting. It's Roth. Roth. And ROTH.
White Hot Kiss is all kinds of awesomesauce. I love the concept Ms. Jennifer L. Armentrout put life into this book. The existence of demons and Wardens (Gargoyles who protect mankind from demons) is a thing that very much catches attention. Not necessarily original, but somehow, it's spectacular.
While reading this book I felt like I'm in a roller coaster ride. There were lots of actions. And I mean, live, real, intense actions!
JLA also did not fail to introduce me to her super swoony characters. And speaking of swoony characters, I'm talking about Roth and no other. Zayne? Nah. Never mind. I kind of don't like him. I don't know why JLA tried to make him the third party of a love triangle but seriously, I don't like it. I just want Roth and Layla. End of the story.
"I lost myself the moment I found you.
White Hot Kiss is cheesy and darkly romantic. Roth and Layla's interactions are epically sweet and fantastic. I love their first encounter! It's something I simply can't forget. 🙂 Apart from the romantic side, this book also has funny moments and I found myself really laughing at some point. Talk about the JLA humor… 😀
Anyways, I love this book. I just wished it wasn't that slow-paced at first, 'coz I admit it didn't get me instantly. I had to patiently read until the final chapters of the book to get my full attention. Because honestly, the best parts were at the final chapters. But all in all, it was a great and fun read. And I need to read the second book soon!
Rating: 4 Stars