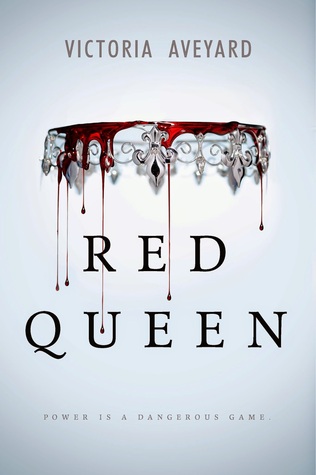 Red Queen
(Red Queen Trilogy #1)
Author: Victoria Aveyard
Publisher: HarperTeen
Published: January 1, 2015
Genre: Young Adult, Fantasy, Science Fiction, Romance, Dystopia
My Rating:
Graceling meets The Selection in debut novelist Victoria Aveyard's sweeping tale of seventeen-year-old Mare, a common girl whose once-latent magical power draws her into the dangerous intrigue of the king's palace. Will her power save her or condemn her?
Mare Barrow's world is divided by blood–those with common, Red blood serve the Silver- blooded elite, who are gifted with superhuman abilities. Mare is a Red, scraping by as a thief in a poor, rural village, until a twist of fate throws her in front of the Silver court. Before the king, princes, and all the nobles, she discovers she has an ability of her own.
To cover up this impossibility, the king forces her to play the role of a lost Silver princess and betroths her to one of his own sons. As Mare is drawn further into the Silver world, she risks everything and uses her new position to help the Scarlet Guard–a growing Red rebellion–even as her heart tugs her in an impossible direction. One wrong move can lead to her death, but in the dangerous game she plays, the only certainty is betrayal.
MY THOUGHTS…
"I hope you become queen one day. Imagine what you could do then? The Red Queen."
How can I convey the awesomeness of Red Queen? This book deserves more than 5 Stars! I'm utterly in awe of it! It's very well written and it surprisingly captured my attention the whole way through.
The tale is centered on a Red-blooded, 17 year-old Mare Barrow who grew up in a deprived village and was raised being aware of the harsh reality that Red Bloods are inferior and are ruled by an elite known as Silver bloods. In a twist of fate, she was pulled out of one world and put into another– the Palace– a place she can't seem to fit into, due to her unusual and unwanted power which is basically not valid for a Red like her. Since becoming the betrothed of one of the King's sons, Mare's life was fed with so much intrigue, deception, and even cruelty which opened her eyes and forced her into joining a rebellion.
The great thing about Red Queen is that it conveys a perfect dystopian theme. The story got off to a good start and it became more and more interesting which made it an absolute page-turner. With its fascinating storyline and the way Victoria Aveyard brilliantly molded her characters from the beginning to the end, I was absolutely spell-bound and I found myself longing for the next book.
This book somewhat reminded me of the Grisha series and The Selection. But Red Queen is rather unique and wonderful in its own way. I love everything, especially the heroine who is such a great character. I love her strength and the way she handled difficult situations. Her character development all throughout the book is so amazing!
I also like the love triangle romance here. Somehow it put me into so many feels! Other than that, the book also teaches life lessons in many ways than one.
Words can lie.
Anyone can betray anyone.
All in all, this book was a fantastic read. I enjoyed Mare's journey and everything in it. It's fast-paced, totally unpredictable, and one with a twist that will basically blow your mind. I highly recommend this to all YA Dystopian fans!
Rating: 5 Stars