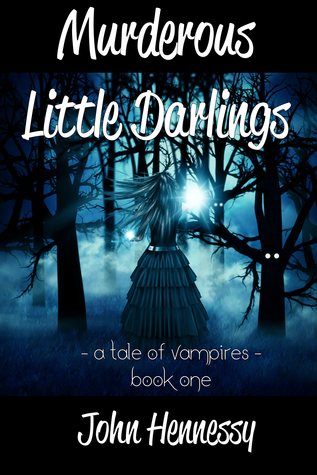 Murderous Little Darlings
(A Tale of Vampires #1)
Author: John Hennessy
Publisher: Entangled Publishing
Publication: October 1, 2014
Genre: Fantasy
My Rating:
Three siblings. An endless list of victims. A whole lot of time to kill.
* * *
With two specimens of the undead on either side of her, Juliana knew there was no escape. Kill the one they had selected for her, or be killed, and become one of them. What had the neighbours in the road called them, back when their childhood pranks were just that?
Oh yes, she remembered now. Murderous Little Darlings. They had the faces of angels, but possessed the very soul of the Devil.
Marcus had fully embraced his vampire side from the moment he was born. Rocco was the second eldest, and had fought the temptation all of his life. Then Marcus finally broke him.
That just left Juliana. Will she resist them, or join in the hunt?
***
About A Tale of Vampires Series:-
There will be seven books in the series, novella style, that are separate, standalone stories, but link up to one big story in the end. Of course, they are best read in order.
MY THOUGHTS…
(A digital copy was provided to me by the author John Hennessy in exchange for an honest review) Thank you so much, sir John!
When I was given this copy, I did not hesitate to read it immediately because I really have a penchant for Vampire-themed books. And my verdict for this novel? It's totally good!
What made me appreciate this novella is that it's unlike anything I've read. It's not a typical vampire-romance story. It's different and refreshing. It's a story about three siblings who are somewhat in a struggle to either fight or embrace the life of being a vampire. The interesting thing about this book is how these siblings face their consequences for the murderous crimes they did.
I have to say I was surprised at the unique plot the author took in this novella. From the very start, I found myself wondering what's about to come, knowing that either of them might play a protagonist or antagonist.
On the other hand, I love the author's writing style. It's neat and superb and it's everything I was looking in a genre like this.
When it comes to its ending, well, it stunned me. What. Was. That?? I did not see that coming! That was such a surprise. Good job for the real plot twist over there, author!
As a whole, I liked this novella. It's a promising one for a whole great series. Highly recommended!
Rating: 4 Stars