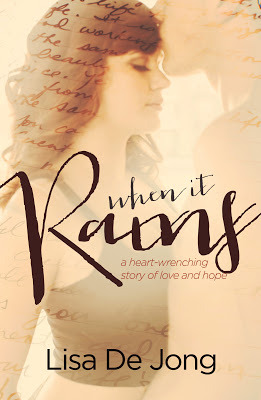 When It Rains
(Rains #1)
Author: Lisa De Jong
Publisher: Lisa De Jong
Publication: January 1, 2013
Genre: New Adult, Romance, Contemporary, Drama
My Rating:
One night changed my life forever.
Beau Bennett has been my best friend since I can remember. He was my first crush before everything came crashing down, and now he wants more, but it's more than I can give him. Things are different now. I wish I could tell him why, but I can't.
I haven't told anyone.
I never knew how much I really needed him until the day he left for college, and I was completely alone.
Then one day, Asher Hunt rides into town with his dark, captivating eyes and cocky grin. He doesn't care who I used to be, he's simply breathing life into what's left. People warn me to stay away from him, but he helps me forget the pain that has held me hostage for so long; something I thought was impossible before he walked into my life.
I've been hurt.
I've been saved.
And I've found hope.
I thought my story was written that night, but now I know it was only a new beginning. Until one secret turns my world upside down…
MY THOUGHTS…
"From now on… When it rains, think of me."
(Buddyreading this with Bea)
I NEED A HUG. Can anyone just hold me while I curl up in a ball and keep sobbing now?
With all honesty, I don't know what to write in this review right at this very moment. I'm speechless. And I'm emotionally drained. But in a good way! 🙂
So let me start by saying that I am so glad to have read this book! I can't believe I've neglected it for months and just let it glued on my TBR. I didn't have any idea that this book was this good!
When it Rains is not just your average, flirtatious chick-lit NA Romance. It's way stronger, deeper, and more emotional than you can ever imagine. It's a story about a girl named Kate who had a very painful and traumatic experience when she was in high school. What happened to her changed her emotionally. It led her to becoming aloof and distant to the people she loved, including Beau– her childhood best friend who was always there for her when she needed him. The story became remarkable when Asher Hunt entered into her town and into her life, eventually making her fall in love with him and daring her to face her fears and troubles. Over time he taught her a lot of things which totally changed the way she perceived about her past and her future.
If you ask me about the book's overall impact to me, I could not express it. To tell you honestly, this book was not an easy read. It was a lot to handle and it took me a lot of strength not to cry harder… because I DID CRY. This book hurt me it cuts so deep!
Perhaps it's the author's writing style that made me feel drawn to it. Lisa De Jong used the kinds of words (and they are even quotable ones) that really create a trail of emotional wreckage in my heart.
Love is the most powerful emotion that lives inside us all. And when you have it, it can help diminish all the painful emotions that bury themselves too deep to be seen.
*sobs*
There are also many elements of truth in this book. Basically it taught me a lot of things. I realized at some point how not being able to control certain situations but being able to move forward after everything that happened can make a difference in your life.
This book does not only center on a love story– love triangle story at that, but it also tackles on violent issues. This is an intense, heavy drama book and to those of you who are planning to read this, I advice you guys to grab a big box of tissues because it really stings so bad.
But even though this book encourages ugly tears, it is nevertheless a heart-warming one. It's well-written and downright beautiful! I love that I was able to connect myself with the characters and the plot itself without having any difficulty. The book, as a whole, has many surprises. This now belongs to my list of favorites.
Thank you so much, Ms. Lisa De Jong for such a heartfelt, wonderful tale!
Rating: 5 Stars