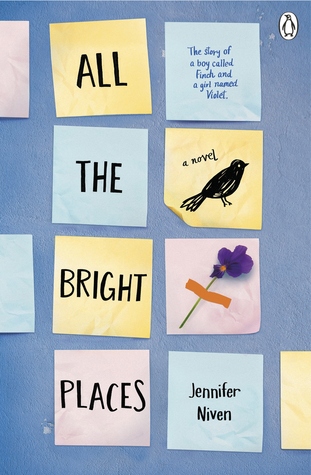 All the Bright Places
Author: Jennifer Niven
Publisher: Penguin
Publication: January 8, 2015
Genre: Young Adult, Romance, Contemporary
My Rating:
Theodore Finch is fascinated by death, and he constantly thinks of ways he might kill himself. But each time, something good, no matter how small, stops him.
Violet Markey lives for the future, counting the days until graduation, when she can escape her Indiana town and her aching grief in the wake of her sister's recent death.
When Finch and Violet meet on the ledge of the bell tower at school, it's unclear who saves whom. And when they pair up on a project to discover the 'natural wonders' of their state, both Finch and Violet make more important discoveries: It's only with Violet that Finch can be himself – a weird, funny, live-out-loud guy who's not such a freak after all. And it's only with Finch that Violet can forget to count away the days and start living them. But as Violet's world grows, Finch's begins to shrink.
MY THOUGHTS…
"For what it's worth, you showed me something– there is such a thing as a perfect day."
I can't believe how sad and challenging this book is. This is a total heart-wrencher. Damn you emotional books! (sorry for the words… I just can't help it.) I'm too devastated right now. 😦
But anyways… Since I've heard nothing but maddeningly sad things about this book before I started it, and since it was even associated with The Fault in Our Stars, I already had an expectation that this is going to be something big. And I was right and was no longer shocked because at some point I knew it was coming.
A story that tackles about delicate issues that are common among teenagers, I guess this book rather speaks about the harsh reality that is going on in the society nowadays. It's an eye-opener and it clearly represents the struggle every child or teenager undergoes when he or she is being bullied in school. It's also something that depicts the importance of family relationships and parent-child communication.
This book had a lot of feels… at least from the beginning up to the middle part. I loved Finch's character and I have to admit that I've grown attached to him. I also adored his and Violet's interactions and their smart-ass exchange of ideas. The way they eventually formed a non-dragging romantic relationship was also well-elaborated. And oh, their sweetness was really, really cute!
When I get to the final chapters, however, that's when I realized that I'm about to cross the bridge of emotional torture. I became sad and angry but I didn't cry because like I said, I already had an idea of what's about to come.
So what am I supposed to feel after reading this book?
I hate it. I love it. I am totally conflicted right now. This is too difficult.
All I can say is, no matter how devastating this book was, it was still an incredible and fun read. It has full of sense and the writing style of the author was brilliant and fluffy. I also loved how the author made funny views about some facts regarding the delicate issues that the book tackles. It was at least a story that entertains while teaching you something deep that basically changes you.
Rating: 4 Stars