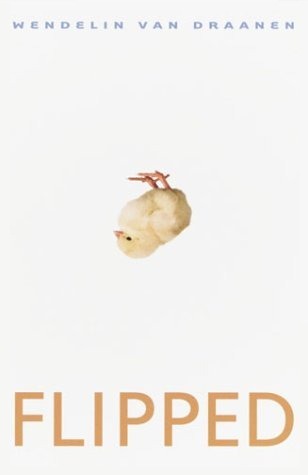 Flipped
Author: Wendelin Van Draanen
Publisher: Wendelin van Draanen
Publication: May 13, 2003
Genre: Young Adult, Romance, Contemporary
My Rating:
Flipped is a romance told in two voices. The first time Juli Baker saw Bryce Loski, she flipped. The first time Bryce saw Juli, he ran. That's pretty much the pattern for these two neighbors until the eighth grade, when, just as Juli is realizing Bryce isn't as wonderful as she thought, Bryce is starting to see that Juli is pretty amazing. How these two teens manage to see beyond the surface of things and come together makes for a comic and poignant romance.
MY THOUGHTS…
"The first time I saw him, I flipped."
Wow, what a fun read! Everything in this book is loaded with all kinds of cuteness. I like the setting, the premise, and the whole idea of this book. I was kind of, in some way, in love with it.
Flipped is not just purely fluff, it's deeper than what I've expected because it conveys great messages that serve as an inspiration to the readers.
"One's character is set at an early age. The choices you make now will affect you for the rest of your life."
I like the characters in this book, especially Bryce's grandfather. I really learned a lot from his words of wisdom. Definitely worth pondering!
All throughout the book I was entertained, especially by Juli and Bryce's love/hate relationship which was totally adorable! My only concern with this book was that I kind of had a hard time going through the same events from both POVs.
But overall, it was a great and refreshing read. I highly recommend this to all YA contemporary fans who are in a search of a light and cute read.
Rating: 4 Stars