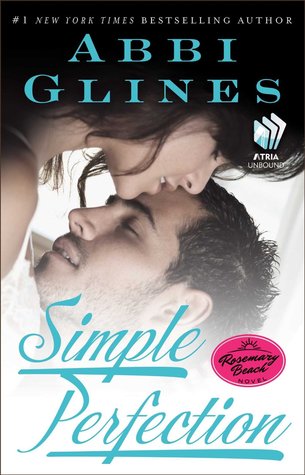 Simple Perfection
(Rosemary Beach #6)
Author: Abbi Glines
Publisher: Atria Books
Published: September 23, 2013
Genre: New Adult, Romance,
Contemporary
My Rating:
Woods had his perfect life mapped out for him. Rise up the ranks of the family business. Marry the rich girl of his parents' dreams. Pretend that wealth and privilege was all he'd ever wanted. Then a girl named Della breezed into town, a beautifully imperfect stranger who captured his heart and opened his eyes to a new kind of future. Woods is ready and willing to sacrifice everything for her when the sudden death of his father leaves him with his mother to care for and a business to manage.
Della is determined to be strong for Woods, even as she's quietly falling to pieces. No matter how far from home she's run, the ghosts of her past have never stopped haunting her. Struggling to hide her true feelings from Woods, Della fears she can't be his rock without dragging him down into the darkness with her. But is she strong enough to let go of the last thing holding her together?
MY THOUGHTS…
"In all her twisted perfection she had made me fall helplessly in love with her. A life without her in it seemed pointless."
No words can describe what I'm feeling right now. I am sooo in love with Woods Kerrington and this perfect sequel of the Rosemary Beach. Honestly, I did not immediately delve into this book after reading Twisted Perfection because I didn't enjoy Woods and Della's story that time.
But this book– *sigh* It's surprisingly better. It was just so good! The love story did affect me because there were too many feels in it. The drama was a little bit exaggerated but who cares? You can't just fall out of love with Woods once you're already hooked with him. 😉
In this book, not only was Della and Woods' story highlighted. There was a glimpse of Jace and Bethy's, too. As well as Blaire and Rush, Grant, and of course my baby Tripp's. 🙂 I loved how these characters converged together and molded their friendship.
There was something in this book that made me cry– especially at the end. And although I was already spoiled on that certain "twist", still, I couldn't help but cry. Damn. Abbi Glines. Why???
But for the main story, it was good. It was a sweet, happy conclusion for Della and Woods' story. I could not ask for a better ending!
Rating: 5 Stars