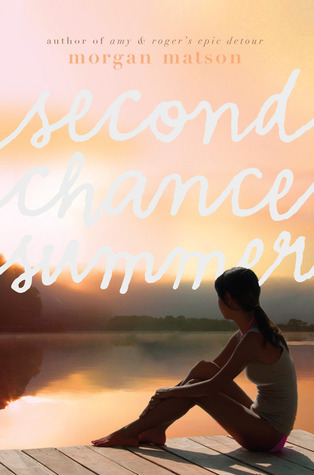 Second Chance Summer
Author: Morgan Matson
Publisher: Simon & Schuster
Publication: May 7, 2013
Genre: Young Adult, Contemporary, Romance
My Rating:
From the Flying Start author of Amy & Roger's Epic Detour, a powerful novel about hope in the face of heartbreak.
Taylor Edwards' family might not be the closest-knit—everyone is a little too busy and overscheduled—but for the most part, they get along just fine. Then Taylor's dad gets devastating news, and her parents decide that the family will spend one last summer all together at their old lake house in the Pocono Mountains.
Crammed into a place much smaller and more rustic than they are used to, they begin to get to know each other again. And Taylor discovers that the people she thought she had left behind haven't actually gone anywhere. Her former best friend is still around, as is her first boyfriend…and he's much cuter at seventeen than he was at twelve.
As the summer progresses and the Edwards become more of a family, they're more aware than ever that they're battling a ticking clock. Sometimes, though, there is just enough time to get a second chance—with family, with friends, and with love.
MY THOUGHTS…
"The thing is that people only get hurt—really hurt—when they're trying to play it safe. That's when people get injured, when they pull back at the last second because they're scared. They hurt themselves and other people."
A heart-felt, beautiful tale about family drama, childhood romance, and friendship that will pull your emotions.
It's my first time reading a book written by Morgan Matson, and I could say that she's one of a kind. The first few lines of the book already told me that the author is thoroughly capable of writing a great and unforgettable novel.
Second Chance Summer is a likeable book. It can put you into a summery feel because it somewhat brings you to a relaxing, calm setting, which is the reason why I did not hesitate to delve into it. I like summer books! And if you've been following me for a while, you know how I enjoyed the The Summer I Turned Pretty Trilogy: The Summer I Turned Pretty; It's Not Summer Without You; We'll Always Have Summer and rated all the books in the series 5 Stars.
This is a sort of moderately heavy drama. It starts off when the main character Taylor Edwards learned that her father has a pancreatic cancer and is dying. One who is used to running off whenever certain situations tend to get rough, she found herself unable to escape the situation when her family decided to go to Pocono Mountains where their lake house was situated and where they always spend their summers together. Even though she was not really comfortable going back there– because going back means possibly seeing her best friend Lucy and childhood sweetheart Henry, she had to- for the sake of her dad who wanted to make his possibly last summer meaningful.
I love these kinds of stories. But it takes an extremely convincing plot to really impress me. The book is good, but for some reason it was lacking. The plotline fell short and it lacked immense movement. It actually took me a while to come around because there were pages upon pages and nothing really happened– which was kind of tedious.
I have also some issues with the main character. So I was aware that Taylor is not a strong character here. She immediately runs off whenever she encounters a great conflict that she can't handle. All the while I thought she would improve, but then she didn't. I was surprised and annoyed at the same time when (view spoiler). That said, the book kind of went downhill for me.
Another issue was the conflict of the book. I don't know but for me, a conflict has to be deep in order to draw the readers in. In this book, however, the conflict was too superficial. And it was easily resolved! Taylor did not even have a hard time gaining Lucy and Henry's forgiveness. Just a simple sorry from her and they're like, "sure, it's ok. I forgive you." (IT MAKES ME SAD) 😦 'Coz really, I was looking for an emotional reunion and forgiveness.
The book's strength, however, was its strong message about how one should not run away when things tend to get hard, and how important it is to stand on your own, face the fears and consequences, and just love a person without holding back. I admit that I was really moved with the letter Taylor's dad left her. The message was utterly thought-provoking and it really made sense.
As a whole, the book is still a good read. I recommend this to everyone at all age who loves summer books with a blend of drama and a little bit of romance. 🙂
Rating: 3 Stars