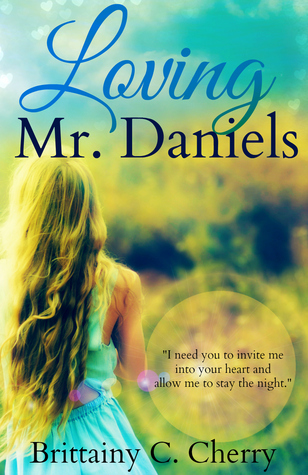 Loving Mr. Daniels
Author: Brittainy C. Cherry
Publisher: Brittainy C. Cherry
Publication: May 11, 2014
Genre: New Adult, Contemporary, Romance
My Rating:
To Whom it May Concern,
It was easy to call us forbidden and harder to call us soulmates. Yet I believed we were both. Forbidden soulmates.
When I arrived to Edgewood, Wisconsin I didn't plan to find him. I didn't plan to stumble into Joe's bar and have Daniel's music stir up my emotions. I had no clue that his voice would make my hurts forget their own sorrow. I had no idea that my happiness would remember its own bliss.
When I started senior year at my new school, I wasn't prepared to call him Mr. Daniels, but sometimes life happens at the wrong time for all the right reasons.
Our love story wasn't only about the physical connection.
It was about family. It was about loss. It was about being alive. It was silly. It was painful. It was mourning. It was laughter.
It was ours.
And for those reasons alone, I would never apologize for loving Mr. Daniels.
-Ashlyn Jennings
MY THOUGHTS…
"Maybe there weren't two different Daniels. Maybe Mr. Daniels was just another part of him. So it wasn't surprising that I had fallen for both sides of the coin. I was crazy about all of him– the good, the bad, and the broken pieces."
Every time I finish a book that is so beautiful and phenomenal, I always find it hard to make a review. It's as if words are not enough to describe how great it is.
So, can I just say first and foremost that THIS BOOK IS REALLY AMAZING? Honesty, if there's a word greater than 'amazing', then that's how I describe this book. I LOVE IT WAY TOO MUCH that it breaks my heart!
From the start to the middle part until the very end, I never had a dull moment reading it because the characters are so likeable and they already created a special space in my heart. The plot is beautiful and heartwarming, and so is the setting and the whole concept. This book is uniquely told, poignant, and totally sweet in every way.
There are so many things I have learned from this book. Not only does it tell about a story of two persons who found love in each other through their similarities and painful situations but it also depicts family drama that will tug your heart.
I DID CRY. In a good way. Even if I've already expected it, I found myself really affected because the scenes in this book are just totally compelling. It's like watching a Nicholas Sparks flick, you know. You just can't control your emotions. More importantly, I found myself really in love while reading it. It's a nice feeling. 😉
I see that Brittainy C. Cherry is not that really well-known as an author, unlike other contemporary authors but I think she deserves the highlight, guys. She's awesome! She's a very talented author and this book proves it right. I like her writing style. The way she creates those quotable lines– I could highlight the whole book! Totally amazing! This book, for sure, will never be the last book that I will read from this author.
As a whole, this book is spectacular. You guys should definitely check this out because if you haven't read this book yet, you sure are missing half of your life! 🙂
Rating: 5 Stars