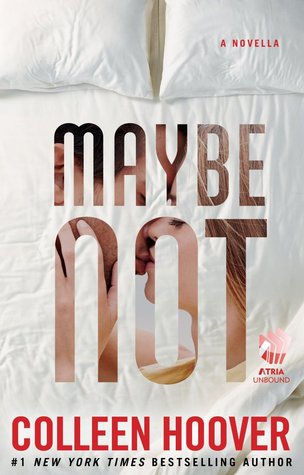 Maybe Not
(Maybe #1.5)
Author: Colleen Hoover
Publisher: Atria Books
Publication: November 24, 2014
Genre: New Adult, Contemporary, Romance
My Rating:
Colleen Hoover, the New York Times bestselling author of Maybe Someday brilliantly brings to life the story of the wonderfully hilarious and charismatic Warren in a new novella, Maybe Not.
When Warren has the opportunity to live with a female roommate, he instantly agrees. It could be an exciting change.
Or maybe not.
Especially when that roommate is the cold and seemingly calculating Bridgette. Tensions run high and tempers flare as the two can hardly stand to be in the same room together. But Warren has a theory about Bridgette: anyone who can hate with that much passion should also have the capability to love with that much passion. And he wants to be the one to test this theory.
Will Bridgette find it in herself to warm her heart to Warren and finally learn to love?
Maybe.
Maybe not.
MY THOUGHTS…
"It's hard to fall in love with assholes, Warren."
"Maybe you just haven't met the right asshole yet."
A fun, sexy, and a swoon-worthy read.
Once again, Colleen Hoover did not disappoint. I love how this novella made me burst into a fit of laughter. Very, very entertaining!
I actually liked Warren since Maybe Someday and in this book, I like him even better. He's such a funny, goofy character– and sexy and adorable at the same time. No dull moments with this guy.
I didn't like Bridgette from the previous book but I found myself liking her this time. I finally understood her and her attitude. It's so nice of CoHo to create a love story of them. I love it so much! It took my stress away. 🙂 I need more books like this!
Rating: 4 Stars