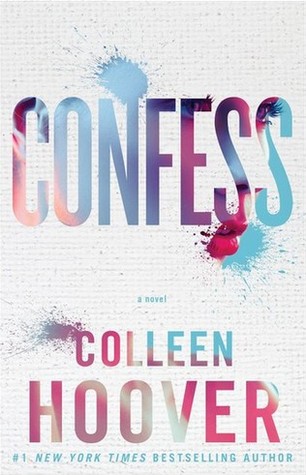 Confess
Author: Colleen Hoover
Publisher: Atria Books
Publication: March 10, 2015
Genre: New Adult, Romance, Contemporary
My Rating:
From #1 New York Times bestselling author Colleen Hoover, a new novel about risking everything for love—and finding your heart somewhere between the truth and lies.
Auburn Reed has her entire life mapped out. Her goals are in sight and there's no room for mistakes. But when she walks into a Dallas art studio in search of a job, she doesn't expect to find a deep attraction to the enigmatic artist who works there, Owen Gentry.
For once, Auburn takes a risk and puts her heart in control, only to discover Owen is keeping major secrets from coming out. The magnitude of his past threatens to destroy everything important to Auburn, and the only way to get her life back on track is to cut Owen out of it.
The last thing Owen wants is to lose Auburn, but he can't seem to convince her that truth is sometimes as subjective as art. All he would have to do to save their relationship is confess. But in this case, the confession could be much more destructive than the actual sin…
MY THOUGHTS…
"Some secrets should never turn into confessions."
Beautiful. Unforgettable. Emotional. Powerful.
To say I was amazed after reading this book is an understatement. No. There has to be a greater emotion than that because THIS BOOK IS HANDS DOWN PERFECTION!
This is by far, one of the best books I've ever read in my entire life. I had high expectations before reading this book and gratefully, I've got more than what I've expected!
This book is emotionally driven. One that totally creates a beautiful impact to every reader. I fell into this book so thoroughly that I found myself already sobbing while reading the Prologue. Seriously, Colleen Hoover? How can you do that?
Everything in this book is sensational. And what I love about it is of course, the impeccable writing style of the Queen Colleen Hoover. (Not a surprise there!). I love the way she writes words that are easy and smooth and flawless. The poetic sound even makes it a lot more beautiful.
The thing about this book, like any other Colleen Hoover books, is that no matter how heavy the romance and the drama are, you will never have dull moments because the humor and entertaining lines are there. You know, the kind that gets you smiling and laughing and feeling million feels!
Confess did not give me a hard time liking it. In fact, I don't just like it. I adore it I literally embraced the book right after reading it! And oh, did I tell you how much I like the series of twists in this book? Utterly brilliant!
The concept is also beautiful. I love the paintings that I get to see inside the book. I also love the romance that has all the right elements. And of course, the ending– which is the best part. It's totally a game changer and I want to hug Colleen Hoover for that!
"That could be fate, you know."
This book, I guess, is the strongest Colleen Hoover book that I've read so far. I hate comparing books but I shamelessly have to say Confess is better than Maybe Someday and Ugly Love (in my opinion). I am totally smitten I'm 100% sure I will have a major book hangover after writing this review. Ugh. I love you, Colleen Hoover! So damn much!
Rating: 5 (or more) stars 😉