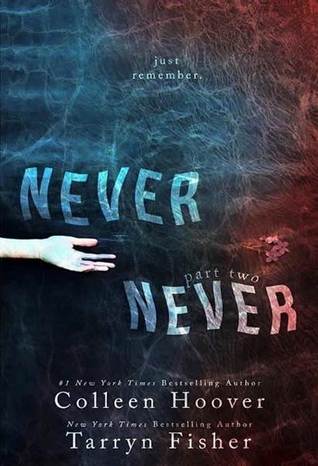 Never Never : Part Two
(Never Never #2)
Author: Colleen Hoover, Tarryn Fisher
Publisher: Hoover Ink
Publication: May 17, 2015
Genre: Romance, Young Adult, New Adult, Contemporary, Mystery, Fantasy, Paranormal
My Rating:
"Never forget that I was your first real kiss. Never forget that you'll be my last.
And never stop loving me between all of them.
Never stop, Charlie.
Never forget."
Silas races against time as more truths unravel, while others twist tighter together. And now, the stakes are higher as Silas' control slips and others begin to point fingers. Charlie is in trouble and he must be the one to bridge the chasm between their past and their present. Because somewhere between I love yous and Never Nevers and Never Agains, a truth they can't imagine, beckons to be found.
"Where are you, Charlie?"
MY THOUGHTS…
"Until then, never lose hope. Never stop loving me. Never forget. Never Never."
Oh jeez what was that?? I'm totally
MIND-BLOWN!
Whoa! That was one helluvah crazy ride!
This novella was a lot better than the first because I finally found some answers that I was craving since the first installment, though I admit I'm still not satisfied. Even though CoHo and Tarryn revealed some of the unknown, still– I can feel that there are a lot more to unravel. THEY WERE SIMPLY NOT ENOUGH! All throughout the book, I was too compelled because it simply sucked me right in. It totally picked my interest from page 1 up to the last.
My favorite of this novella is of course, Silas's POV. I love him. I love every moment I'm in his head like seriously, the humor and the sexiness combined into one. *swoons
When it comes to the plot, well, it was so damn amazing. Very well executed by these two amazing authors! In this novella, you can expect really f*cked up situations. Everything that happened between Charlie and Silas was a mess! But it was perfectly built with loads of adrenaline-pulling scenes. And when I finally got into that ending, I was like…
I was too freaking nervous like what the heck??
I need Never Never: Part Three like RIGHT NOW!
(Buddyread with the super duper lovely AJ)
Rating: 5 Stars