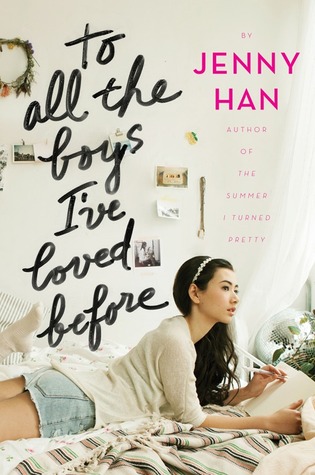 To All the Boys I've Loved Before
(To All the Boys I've Loved Before #1)
Author: Jenny Han
Publisher: Simon & Schuster Books for Young Readers
Published: April 15, 2014
Genre: Young Adult, Romance, Contemporary
My Rating:
Lara Jean keeps her love letters in a hatbox her mother gave her.

They aren't love letters that anyone else wrote for her, these are ones she's written. One for every boy she's ever loved—five in all. When she writes, she can pour out her heart and soul and say all the things she would never say in real life, because her letters are for her eyes only. Until the day her secret letters are mailed, and suddenly Lara Jean's love life goes from imaginary to out of control.
MY THOUGHTS…
"I think I see the difference now, between loving someone from afar and loving someone up close, you see the real them, but they also get to see the real you."
A cuteness overload book! Reading another Jenny Han's book as good as this is making me feel warm and fuzzy inside. I love it! Miss Jenny Han really never fails!
This book is a light and easy read. It's also swoon-worthy. I love the author's writing style, as usual. And of course, I love the characters– Peter Kavinsky and Kitty, especially.
What I like best about this book is the fun moments. There is always humor in it and at some point, I found myself really laughing out loud. The family drama is also well-done. I like Lara Jean's personality and how she was able to handle her responsibility after Margot went to Scotland. She was at first, quite annoying, but that's okay since she's a teenager and teenagers normally act that way, right? But I really like the way her character improves all throughout the book.
The romance is also good. So sweet and cute! I feel like I'm back to being a teenager once again and it's kind of refreshing in a way. Now I'm excited for P.S. I Still Love You!
Rating: 4 Stars