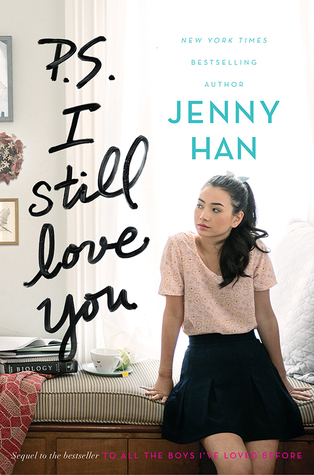 P.S. I Still Love You
(To All the Boys I've Loved Before #2)
Author: Jenny Han
Publisher: Simon & Schuster Books for Young Readers
Published: May 26, 2015
Genre: Young Adult, Contemporary, Romance
My Rating:
Lara Jean didn't expect to really fall for Peter.
She and Peter were just pretending. Except suddenly they weren't. Now Lara Jean is more confused than ever.
When another boy from her past returns to her life, Lara Jean's feelings for him return too. Can a girl be in love with two boys at once?
In this charming and heartfelt sequel to the New York Times bestseller To All the Boys I've Loved Before, we see first love through the eyes of the unforgettable Lara Jean. Love is never easy, but maybe that's part of what makes it so amazing.
MY THOUGHTS…
"So much of love is chance. There's something scary and wonderful about that."
— Spoilers ahead —
The second book of To All the Boys I've Loved Before is more entertaining, witty, and hilarious.
What disappointed me was Peter.
Wait a minute…
Is Peter Kavinsky the same Peter Kavinsky I've read in the first book? Why the heck did he turn out to be such an effin' dick?
Seriously. Why did Jenny Han build transform his character like that? I admire Lara Jean's character development here. She grew up emotionally with so much calmness and control despite the hell that happened to her.
But Peter. Why, Jenny Han? Why made me hate Peter? You know I love him in the first book, right? Did you seriously just turn him into an immature A-hole? The way Peter treated Lara Jean? It didn't sit well on me. It just didn't. Not to mention the fact that he's still attached to his ex-girlfriend, Genevieve. SMH.
And the plot. Why was it such a big mess?
And that ending. THAT'S IT??! Like, THE END? And just like that? Whoa! I don't even know if that's a good ending at all.
But the good thing, nevertheless, is that I enjoyed most parts of it. Like I said, it was highly entertaining and even funnier. Give it all to KITTY!!
Another good thing was JOHN AMBROSE MCCLAREN. This guy is a total bae and I just want to make that unequivocally clear. Ha! While Jenny Han made Peter such a dick, she built such a great character out of John. A complete opposite with the male lead. And up until now, I still could not get why the author did that. Transforming the lead man into a complete jerk and highlighting a secondary male character by giving all the good traits on him.
The ending was unsatisfactory. There was no real conclusion whatsoever. I don't even agree with Lara Jean accepting Peter back like that. I think the kiss-and-make up thing was too easy. After all?
*sigh
Honestly, I feel like I'm being generous with my 3-star rating on this, but well.
It was still a fun read after all.
Rating: 3 Stars