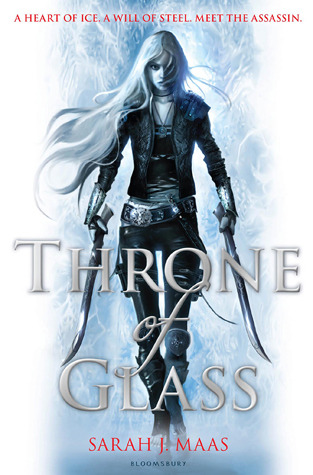 Throne of Glass
(Throne of Glass #1)
Author: Sarah J. Maas
Publisher: Bloomsbury
Published: August 2, 2012
Genre: Young Adult, Fantasy, Romance
My Rating:
Meet Celaena Sardothien.
Beautiful. Deadly.
Destined for greatness.
In the dark, filthy salt mines of Endovier, an eighteen-year-old girl is serving a life sentence. She is a trained assassin, the best of her kind, but she made a fatal mistake: she got caught.
Young Captain Westfall offers her a deal: her freedom in return for one huge sacrifice. Celaena must represent the prince in a to-the-death tournament—fighting the most gifted thieves and assassins in the land. Live or die, Celaena will be free. Win or lose, she is about to discover her true destiny. But will her assassin's heart be melted?
MY THOUGHTS…
"My name is Celaena Sardothien. But it makes no difference if my name's Celaena or Lillian or Bitch, because I'd still beat you, no matter what you call me."
This is something I never truly expected. Guess this is the best thing about setting low expectations in a book– you get to be surprised! The moment I started Throne of Glass, I was already sure that it's going to be just an okay book. I didn't even wish to read its sequels for the reason that it's quite a lengthy series. I was just curious because of the hype.
But holy crap! What was I've just read? Seriously, did I just read such a freaking amazing book? Wow, just wow!
Miss Sarah J. Maas, you've just gained another fan right here. Count me in!
I love everything in this book. From all its epicness glory to its impressive world and character building. Such a beautiful, high-fantasy read! If you want to know why I love it, here are the reasons why:
1.) It's compelling and a total page-turner.
Ever had that feeling when you just want to devour word after word just to sink everything in to your mind because you just want to savor every little detail in the book and enjoy it? I've just felt that in every chapter.
2.) I love the characters.
Celaena Sardothien, the main character of this book, is my kind of character. Kick-ass, strong-willed, and not angsty and annoying. I love how she turned out to be such a strong girl despite her awful past.
Dorian Havilliard. Holy mother of all Gods! I just love him so much. And don't be mad at me guys (I know there are lots of you, Team Chaol. Ha!) but he's such an adorable character. I have always been a fan of princes, dukes, and royal characters so it was not hard for me to like him, and even adore him from the first up to the last chapters. I'm Team Dorian all the way!!!
Chaol Westfall. All right, so even if I'm Team Dorian, I have to be honest that I do admire this guy. I love his character and the way he's too composed and protective towards Celaena. He's a character every girl will drool over, okay! (which makes the love triangle really, really hard af)
3.) The author's writing style is perfection.
In every book, the author's writing style is the one that really matters. In Throne of Glass, the author just made a perfect job. Sarah J. Maas was able to pull me into the high-fantasy feels I've always wanted to delve into. I love how her words were easy to digest. It makes everything smooth, given the fact that there were many terminologies and names that readers need to get to know.
4.) The love triangle.
I have to admit that love triangles in books are a bit challenging for me, because they could either hit or miss. But this book– it's just… I don't know what to say. The love triangle is amazingly done. Have you experienced being put in a situation where you just don't know who to choose between two guys because both are just amazing? I experienced that during the first chapters. But well, I have to say that I'm biased because like I said, Dorian won my heart. (But the series is not yet done, so I don't know. Maybe I could change my mind. But for now though..) *sigh*
5.) Perfect plot.
The plot is really good! There were no dull moments. There were lots of twists and turns and surprising events that will absolutely blow your mind!
6.) Epic action scenes.
Best of all, I love the action side of this book. It's just the beginning of the series and yet the energy is already there!
As a whole, the book is AMAZING. I was not prepared for this, but yes– I already decided to invest in this series and read its sequels. It's now a new favorite!!! Hopefully the series will continue to become epic. Looking forward to that!
Rating: 5 Stars