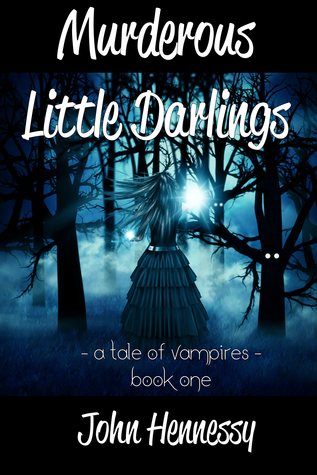 Three siblings. An endless list of victims. A whole lot of time to kill.
* * *
With two specimens of the undead on either side of her, Juliana knew there was no escape. Kill the one they had selected for her, or be killed, and become one of them. What had the neighbours in the road called them, back when their childhood pranks were just that?
Oh yes, she remembered now. Murderous Little Darlings. They had the faces of angels, but possessed the very soul of the Devil.
Marcus had fully embraced his vampire side from the moment he was born. Rocco was the second eldest, and had fought the temptation all of his life. Then Marcus finally broke him.
That just left Juliana. Will she resist them, or join in the hunt?
***
About A Tale of Vampires Series:-
There will be seven books in the series, novella style, that are separate, standalone stories, but link up to one big story in the end. Of course, they are best read in order.
Read my review of Murderous Little Darlings here
Welcome to my blog. First of all, I'd like to congratulate you for a job well done on Murderous Little Darlings! I am very pleased to have you here.
Thank you for inviting me to participate and be featured on your wonderful blog Pearl!
My pleasure. Now let's get the ball rolling. Have you always dreamed of becoming an author? If not, what inspired you to become one?
I have always wanted to tell stories – actually being published and getting my work into people's hands was another thing entirely. I'm grateful to any and everyone who has read my books. As for inspiration, it sounds twee, but basically any book I have ever read inspired me to to write.
That's really wonderful. Tell us something interesting about your book that we should know before reading it that we won't get from the description.
I think the description or blurb is just a teaser. A well written story will have some real depth, and it's not right to give all of that away in the blurb. I think what people can count on from me, is that I will give them something totally unexpected. Maybe not in every book, but most of the time.
There are a lot of supernatural and paranormal beings to choose from, what made you decide to have vampires as the focus of your story?
In this particular series – A Tale of Vampires, I have always had a seven-story arc where the seemingly unrelated tales relate more closely together as the series matures. I like vampires of the classical sense. I can accept the need to romanticise the genre, but in my series, but making it very clear that they are killers, it gives the story a sense of menace and unpredictably that I feel has been missing in other more recent series.
If vampires really did exist, and you happened to stumble across one by accident, what would your first reaction be?
I think run – and keep running!
In your opinion, what is the hardest part about writing a book?
Accepting that the best version has not been written, just because the draft has been completed. You've got to keep working on it constantly. Then you must leave it for a while (my usual time frame is a month) before going back to it and working over it again.
You teach martial arts. How does that discipline complement your own fiction writing?
By getting things done. If I hit an opponent and do not make him yield, what is the point? I must defeat him totally and utterly. Regarding books…. it is the discipline and the will to finish it and produce the best book that I can.
Wow. I'm learning something. If being a writer wasn't an option, what would your dream job be? 
That's a tough one. If I was younger by ten or twenty years, I would say martial arts teaching. As I age, I accept I cannot teach forever at this level. I suppose as I am used to working from home, it would be something that allows me to do that for the rest of my life. I don't ever want to retire.
Can you give your readers a hint of what we can look forward to?
In July, my adult dark romance / psychological horror thriller comes out (Clara's Song). In October, the third and final Dark Winter book will be released. In January of next year, we are back into the world of vampires, with the release of book five in the series – Reunion of the Blood.
That's exciting news! Now for a few favorites!
Favorite book genre?
Horror.
Favorite childhood movie?
Gosh….probably Superman (1)
Favorite vacation spot?
Okinawa.
Favorite superhero?
Batman
Thanks once again for taking a minute to answer some questions for me.  It's such a pleasure to have you stop by the blog!
Thank you so much for having me on your blog Pearl.
And that was John Hennessy, the author of A Tale of Vampires series. If you'd like to get to know him more and find out more about his books, feel free to
follow him on
and 
  or simply add his books on your list of TBRS. I know you have plenty of to-be-reads, guys, but I can assure you that his books are one of a kind– unlike any other supernatural books you've experienced.
You can also purchase his books in:
Born in the Year of the Ox, John Hennessy writes paranormal horror for both adults and teens. Originally from Birmingham, England, and of Irish descent, he has lived in New York before eventually moving back to his home city.
A kung fu addict; he teaches martial arts full-time but writes at all other times, working on three series:- Dark Winter, Stormling and A Tale of Vampires.
When he doesn't have a book in his hands, he likes to travel and see weird and wacky things. He admits to having an unhealthy addiction to Star Trek, Batman, Charmed and Buffy the Vampire Slayer, to name but a few. He will also travel to reputed scary places in England, as he feels it makes his books more real.
Friend invites will happily be accepted, but you'll need to interact. Unlike some of the characters in these stories, the author won't bite!