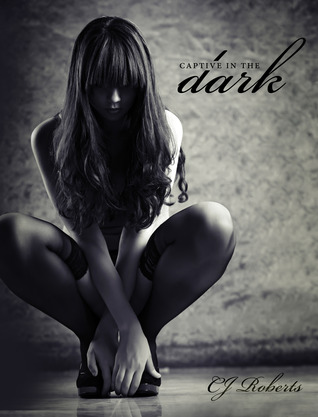 Captive in the Dark
(The Dark Duet #1)
Author: C.J. Roberts
Publisher: C.J. Roberts
Publication: July 20, 2011
Genre: Dark, New Adult, BDSM, Erotica, Romance, Contemporary
My Rating:
Caleb is a man with a singular interest in revenge. Kidnapped as a young boy and sold into slavery by a power-hungry mobster, he has thought of nothing but vengeance. For twelve years he has immersed himself in the world of pleasure slaves searching for the one man he holds ultimately responsible. Finally, the architect of his suffering has emerged with a new identity, but not a new nature. If Caleb is to get close enough to strike, he must become the very thing he abhors and kidnap a beautiful girl to train her to be all that he once was.

Eighteen-year-old Olivia Ruiz has just woken up in a strange place. Blindfolded and bound, there is only a calm male voice to welcome her. His name is Caleb, though he demands to be called Master. Olivia is young, beautiful, naïve and willful to a fault. She has a dark sensuality that cannot be hidden or denied, though she tries to accomplish both. Although she is frightened by the strong, sadistic, and arrogant man who holds her prisoner, what keeps Olivia awake in the dark is her unwelcome attraction to him.

WARNING: This book contains very disturbing situations, dubious consent, strong language, and graphic violence.
"While I slept, he had made himself the master of my fate, and I could do nothing but allow it."
Holy smokes! What have I just read?
My reactions throughout the book:
Captive in the Dark surprised me to no end! It's one of those books that can make me pause for a while, contemplate and question myself if I'm still normal? Because it's the kind of book that I shouldn't love, but I did. It's dark, twisted, and full of fuckeries, and yet… I love it!
This book is not your typical romance book. It's not even about kidnap books that happen in some mushy, romantic movies. Nope. It's abduction with cruelty– a book where a captor inflicts pain to his captive for the sake of escaping his traumatic past and sort of relieving his inner torment.
The story opens with an introduction of the main character Caleb who had a very complicated and painful past. He grew up with an absolute desire for revenge to someone whose influence and wealth are infinite. By operating a sex slave business, his mission to find connection to that someone and give revenge is already too close. Until he met the innocent and fragile Olivia, the perfect prospect for a sex slave, and things began to take place.
This book is quite disturbing but there's something powerful about it that captivated me from the first page up to the last. It might be because of Caleb. Because no matter how much I try to hate him for his twisted personality, I still found myself drawn to him. The empathy I felt for him is indescribable I thought I might be having Stockholm Syndrome. All throughout the book I basically wanted to read more and find out what made him do things like what he did to Olivia and what made him become a monster.
When it comes to Olivia, she is a perfectly imperfect character. I found her too soft in the beginning. I did not like the way she always react by crying and sobbing. She could do better than that. Thankfully, her character improved in the middle portion of the book and she became tough, unyielding, and admirable.
Despite how this book appeared to be disturbing, it was well-done. The way it was written by the author is impressive. The storyline and the plot were greatly executed. It's also fast-paced and totally compelling and there were also action and thrilling scenes that are bone-chilling. I also love the romance in this book. It's deep and stirring.
My emotions all throughout the book can't be explained. This novel is absolutely a masterpiece! I can't wait to find out what happens in the next book!
Rating: 5 Captivating Stars