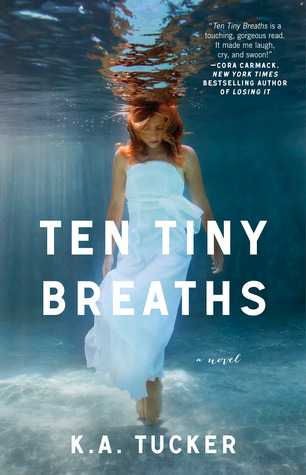 Ten Tiny Breaths
(Ten Tiny Breaths #1)
Author: K.A. Tucker
Publisher: Atria Books
Publication: September 24, 2013
Genre: Romance, Contemporary, New Adult
My Rating:

Kacey Cleary's whole life imploded four years ago in a drunk-driving accident. Now she's working hard to bury the pieces left behind—all but one. Her little sister, Livie. Kacey can swallow the constant disapproval from her born-again aunt Darla over her self-destructive lifestyle; she can stop herself from going kick-boxer crazy on Uncle Raymond when he loses the girls' college funds at a blackjack table. She just needs to keep it together until Livie is no longer a minor, and then they can get the hell out of Grand Rapids, Michigan.

But when Uncle Raymond slides into bed next to Livie one night, Kacey decides it's time to run. Armed with two bus tickets and dreams of living near the coast, Kacey and Livie start their new lives in a Miami apartment complex, complete with a grumpy landlord, a pervert upstairs, and a neighbor with a stage name perfectly matched to her chosen "profession." But Kacey's not worried. She can handle all of them. What she can't handle is Trent Emerson in apartment 1D.

Kacey doesn't want to feel. She doesn't. It's safer that way. For everyone. But sexy Trent finds a way into her numb heart, reigniting her ability to love again. She starts to believe that maybe she can leave the past where it belongs and start over. Maybe she's not beyond repair.

But Kacey isn't the only one who's broken. Seemingly perfect Trent has an unforgiveable past of his own; one that, when discovered, will shatter Kacey's newly constructed life and send her back into suffocating darkness.
I've just read another phenomenal book!
I picked up Ten Tiny Breaths because of its postive reviews on Goodreads and I'm so happy that I made a great decision. It did not disappoint. The story was handled and delivered well by the author.
Ten Tiny Breaths tells us a story about the main character Kacey Cleary whose life has changed ever since the day her parents, her boyfriend, and her bestfriend died in a car accident. It's the accident where she was the only one who survived. When she and her sister Livie moved to Miami to start a new life, she met the tall, gorgeous, and intriguing guy Trent Emerson whom she had an immediate attraction to. She later on became attached to him– but with reluctance, because of her issues.
I am a fan of romance books with deep and heavy drama behind, and I must say that this book really brought out the emotions in me. Although the writing style of the author didn't feel as captivating to me at first, I enjoyed the book as I've read further because of the surprisingly peculiar effect it had in me.
Kacey is a great character. She's a headstrong woman. What I like about her is the way she became determined to protect her sister from anyone who became a threat to them. I wish I have a sister like her! I have to admit that at first, I really had a hard time liking her. She's one of those whiny female leads that constantly annoy me, but then I quickly warmed up to her the moment the author presented the details about her traumatic past. I ended up a bit feeling awed by her.
Trent is also one amazing character that is worthy to be praised. I love how he was introduced in a mysterious manner. I also love his gentleness towards Kacey and the way he became a remarkable part of the book.
"Just breathe. Ten tiny breaths … Seize them. Feel them. Love them."
The thing you can expect about Ten Tiny Breaths is the beautiful impact afterwards. It's a story about love, grief, denial, healing, and forgiveness. I appreciate how moving on was greatly emphasized here. I highly recommend!
Rating: 4 Stars
Buy this book at