Pulse
(Collide #2)
Author: Gail McHugh
Publisher: Atria Books
Published: May 20, 2014
Genre: New Adult, Romance, Contemporary
My Rating:
How do you keep existing when your heart is so splintered, so completely torn to shreds, your pulse is fading?

You're… broken. How do you move forward when every breath is nothing more than a constant ache? Living becomes an insidious reminder that you threw away the single largest part of yourself. Your… soul. No amount of distraction can pull you from the torture of losing your… life.

Now that Emily Cooper has walked away from her first love, she finds herself running toward her only love. Unraveling fast, but clinging to hope, Emily risks all she has left on the man that has consumed her every thought and dream since the day they met. Will Gavin take her back? And if so, will their reunion be a collision of two hearts destined to complete one another and rekindle a love that knew no boundaries? Or will scars from their past rip open, tearing slowly at what each of them was meant to be? Can fate, the ultimate game changer, mend the shattered road it laid out from the start?

Only time will tell…

Tick-Tock…

"We were written for one another, and I wouldn't change one line in our romance novel. The good, the bad, the in between. It's ours. We own it."
Warning: Potential spoilers ahead.
I'm a fan of the first book of this series (Collide). It was beautiful, with such emotional depth and enough angst. But I hate to say that the story kind of went downhill in this second and final installment. 😦
First, let me cite the things that I loved about Pulse. I actually enjoyed the first half of the book because the plot was exciting. In the beginning chapters we can see a different Emily— one who pursues Gavin, desperately asking him for a second chance after what she did in the first book. I admit I really loved it when Gavin did not immediately succumb to her but instead made her emotionally suffer first before he took her back. That was what I was looking for. Make Emily suffer in order for her to realize what a spoiled, insensitive girl she was. *evil laughs. I also loved how strong Emily and Gavin became after the things they experienced and how they were able to handle Dillon.
But of course I developed negative feelings for this book especially because:
> There was too much cheesiness. Don't get me wrong. I love cheese. But when it's overly done, nah. Give me a break! Most of the time Gavin and Emily kept reminding each other how much they love each other and it's already getting so annoying. Like, okay, I KNOW. Please.
> The drama was overkill. It went on and on and on… to the point where it already became frustrating.
> Too many unnecessary scenes. Yep. Especially sex scenes. I've had enough already. Can we just move on?
… and when (view spoiler) I was like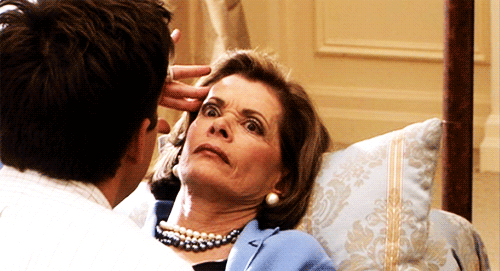 I can say that Collide was a very good start but sad to say, the series' ending wasn't enough to give me the satisfaction. Yes, it has a good ending. Happy, even. But it didn't really captivate me. But despite my issues with this book, I still admire Gail McHugh and her impeccable way of writing. She writes with emotions and she definitely nails an angst-ridden romance that will leave you breathless.
Rating:
Buy this book at: