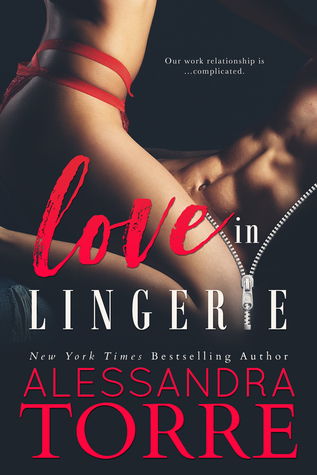 Love in Lingerie

Author: Alessandra Torre
Publisher: Select Publishing
Published: January 16, 2017
Genre: Adult, Romance, Contemporary
I hired her to fix my company, to bring Marks Lingerie back to life. I didn't expect her to become my friend. I didn't expect to fall in love with her.

The first rule of business is to never touch your employees. I think there is another rule about not falling for your best friend—a rule against imagining the curves of her body, or the way her breathing would change if I pulled down her panties and unzipped my pants.

Now, I can't wait any longer. I'm tossing out the rules.

Damn the company.
Damn our friendship.
Damn my fears.
"If our love was a lingerie, it'd be a corset, one laced so tightly that it takes your breath."
Love in Lingerie is Alessandra Torre's newest book. It was an enjoyable read, but I think it wasn't as good as her previous books.
The book started when Kate Martin applied for a Creative Director position at Marks Lingerie. Her job is to help save the sinking company and bring it back to life. The first time she met the owner of the company Trey Marks, she instantly felt the palpable sexual tension. But she knew that the last thing that should happen between them is to get romantically and sexually involved with each other. Trey thought the same, so they had the unspoken rule to just remain friends inside and outside the office. It's not an easy feat, though, because no matter how much they push each other away, the attraction gets stronger every day.
"In five minutes, I could make her mine. In ten minutes, she'd be calling me her god. In twenty, I could propose and she'd beg me for a lifetime more."
I can better describe this book as something that has both ups and downs. There were certainly some scenes that were enjoyable and swoony, but there were also parts that I found a little confusing because of the odd narrative style that Alessandra Torre used.
Another thing, I found the romantic development between Trent and Kate to be moving quite slowly. How many years will it take them to admit that they're hot for each other? Ahhh the frustration!
Nonetheless, despite its flaws, the book has a few redeemable things. Some good lines were thrown in places and the author did a great job with the smut. I would still recommend this book, but I know that this is far from Alessandra Torre's best work.

Buy this book at: