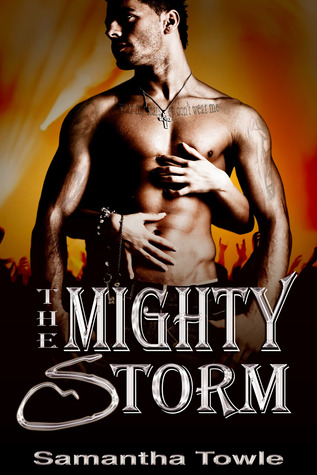 The Mighty Storm

(The Mighty Storm #1)
Author: Samantha Towle
Publisher: Samantha Towle
Published: August 24, 2012
Genre: New Adult, Romance, Contemporary
It's been twelve years since Tru Bennett last saw Jake Wethers, her former best friend and boy she once loved.

Jake Wethers, sexy, tattooed and deliciously bad lead singer, and brains behind The Mighty Storm, one of the biggest bands in the world, left Tru with a broken heart when he moved from England to America with his family when they were both fourteen.

Sent to interview Jake for her music column by the magazine she works for, they are both unprepared for the sparks that fly the instant they reconnect. Only, there's a complication to their instant feelings for one another—Will, Tru's boyfriend of two years.

Then Jake makes Tru a job offer she can't refuse—travelling the world with him and his band. But taking the job means leaving Will behind, and being on the road with the band means spending an inordinate amount of time with Jake.

Is Tru strong enough to resist the delectable bad boy who once held her heart so completely, or will she willingly risk it all for one night with the world's most notorious womanizer?
"It's always been you. I loved you from the moment I knew how to love."
Choosing The Mighty Storm as my next read was definitely the BEST decision that I've made because this is now officially added to my list of favorites!
At first, I thought the book was just like any other rock star romances that portray typical plots about a famous guy falling in love with an ordinary girl. Well, there were certainly clichés thrown in places in this book but I could say they were designed in a gripping, enticing way. One you couldn't say no to.
The story centers around the characters Jake Wethers and Trudy "Tru" Bennett. Jake, the lead singer and founder of one of the biggest rock bands known as The Mighty Storm, is dubbed as the ultimate bad boy and a prolific womanizing rock star. He was Tru's best friend (and first love) when they were still kids but after he moved to the US with his mom and stepdad, their communication stopped. After 12 years of separation, their paths crossed again when Tru interviewed Jake for a magazine scoop. Now a music journalist, Tru did not expect her feelings for Jake to reawaken after seeing him again.
The romance was intoxicating and the angst was so good I devoured it all up. There were a lot of scenes that made me feel anxious and totally on edge while waiting for what's about to happen between Tru and Jake. There were also parts that made me feel furious because of Tru's stupid decisions. I have to admit that Tru got on my nerves most of the time. Surprisingly though, her annoying qualities didn't diminish my overall enjoyment because I just loved how the story was beautifully rendered.
Call me shallow, but one of the things that I also loved about this book was Jake Wethers. Book boyfriend alert, ladies and gentlemen!
If you fancy bad boy and possessive (in a good way) heroes, I don't think you will ever dislike Jake. I loved how his character was portrayed here. He's this kind of guy that's too good to be true despite his flaws and imperfections.
"I love you beyond any lyrics I could ever write, or any words I could ever say."
What an emotional journey The Mighty Storm has been. I just love Tru and Jake together! I wish to read more books like this, books that will make me feel like I am reading a romance book for the very first time. You know that feeling? Ughhh…
"To me Jake was and is music, it's what glued us together."

Buy this book at: