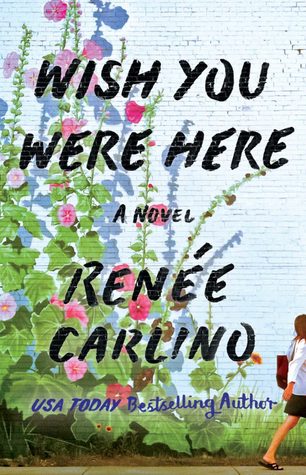 Wish You Were Here

Author: Renee Carlino
Publisher: Atria Books
Published: August 15, 2017
Genre: Romance, New Adult, Contemporary
Charlotte has spent her twenties adrift, floating from interest to interest, job to job, and guy to guy, searching for a spark but never quite finding it. All she knows is that she won't discover it working as a waitress at a pies-and-fries joint in Los Angeles or living with her fun but aimless best friend in a tiny apartment in the Arts District.

Then Charlotte collides with Adam, a gorgeous and soulful painter who seems just as lost as she feels. Their instant connection turns into a midnight drink… and a whirlwind night of champagne, Chinese food, and the kind of conversation that only happens in romantic comedies. But the next morning, Adam gives Charlotte the cold shoulder, leaving her confused and hurt—and wondering if the few odd moments between them the night before were red flags in disguise.

Months later, Charlotte hasn't been able to shake Adam, so she decides to find out what happened the morning after their magical night together. This fateful decision rewrites their wild love story, but what Charlotte doesn't know yet is that the ending has already been written.
"When you love someone, whether it be your family, friends, partners, whatever, it's like planting a seedling of yourself inside of their hearts."
I was downright emotional after reading this book. Wish You Were Here was so deep, so heartbreaking and powerful. The plot wasn't what I expected to go but it completely surprised me and it turned my world upside down.
The story centers around Charlotte Ann Martin. She's someone who doesn't seem to have a sense of purpose. Along with her other jobs, she works as a waitress at Blackbird's Café but she doesn't love what she's doing. She also sucks when it comes to relationships as she was always attached to guys with issues. Then she met a high-spirited stranger named Adam Bramwell, a rich lawyer who quit his job to pursue his interest– art. They instantly connected. When she spent a night with him, they acted like they're a couple who had been together for years. However, the next morning, Adam kicked her out. She spent a lot of days wondering why he never reached out to her again. Just when she gave up and moved on with a gorgeous baseball player Seth Taylor, Adam came back into her life and that time, she found out the real reason why he disappeared.
"You brightened the darkest time of my life."
The storyline actually reminds me of the book that I've read before, When It Rains. They have a lot of similarities. However, the romance and the drama in this book were portrayed differently. I could say it really affected me on so many levels. I guess what truly made this book stand out was the unpredictability of it. I felt a little shaken by how unexpected the twist had been. It broke my heart!
This book isn't just a romance story but it also teaches life lessons to the readers. Making the most of your life and doing exactly what you love is its real message. It also reaches out to people who do not feel like they're worthy to be loved. Those who do not value themselves.
What made me feel attached to this book was the impact it gave me. I became lost in the story because the characters are just worth caring about. They're well-built out and well-developed. The ending wasn't what I hoped to happen though, but I knew that it has to end that way. Overall, this was a beautifully woven, tear-jerking story. Renee Carlino has done it spectacularly!
"Till death do us part is for quitters. I promise to love you forever. As long as there is love in this world, we will be a part of it."
(An ARC was provided by Atria Books and Netgalley in exchange for an honest review)
Buy this book at: