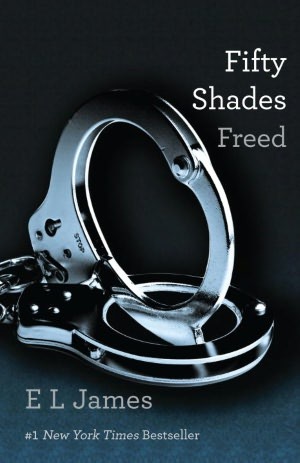 When unworldly student Anastasia Steele first encountered the driven and dazzling young entrepreneur Christian Grey it sparked a sensual affair that changed both of their lives irrevocably. Shocked, intrigued, and, ultimately, repelled by Christian's singular erotic tastes, Ana demands a deeper commitment. Determined to keep her, Christian agrees.
Now, Ana and Christian have it all—love, passion, intimacy, wealth, and a world of possibilities for their future. But Ana knows that loving her Fifty Shades will not be easy, and that being together will pose challenges that neither of them would anticipate. Ana must somehow learn to share Christian's opulent lifestyle without sacrificing her own identity. And Christian must overcome his compulsion to control as he wrestles with the demons of a tormented past.
Just when it seems that their strength together will eclipse any obstacle, misfortune, malice, and fate conspire to make Ana's deepest fears turn to reality.
This book is intended for mature audiences.
MY THOUGHTS…
This book is way BETTER than the second installment. It started off really well. I love the honeymoon part where they traveled to Europe, the gift-giving and generous Christian Grey, the passionate scenes, the jealousy/protectiveness Christian always displays– everything! It's just too perfect to be true! And if ever this story happens in real life, I'd definitely be crazy!
This book is great. I was about to rate it 5 stars, but then, I was not at all convinced when it comes to its ending. All right, they have a perfect, happy ending and they created a happy family. But — I don't know. Maybe I was expecting a different conclusion with this trilogy.
I also didn't like how Ana became pregnant and how EL James incorporated a bit of action in the near-end. I'm not so sure why I wasn't thrilled. Maybe I was just impassive or something. But all in all, I mostly enjoyed this book. Ana and Christian's love affair is insanely surreal!
The Book Is…
Pros
Romantically driven. There are sweet moments that will definitely entice you and melt your heart away. It has, as expected, a happy ending.
Con
There are scenes that are superfluous. And some things are also quite unbelievable and exaggerated.
My Rating for this book: 4 Stars (I love this book and I totally recommend it!)
Favorite Quotes from this Book
"I want your world to begin and end with me."
"We always hurt the ones we love, darling."