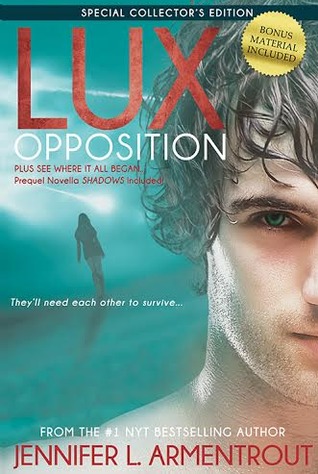 Opposition
(Lux,#5)
Author: Jennifer L. Armentrout
Publisher: Entangled Teen
Published: August 5, 2014
Genre: Young Adult, Fantasy, Paranormal, Romance, Science Fiction
My Rating:
Katy knows the world changed the night the Luxen came.
She can't believe Daemon welcomed his race or stood by as his kind threatened to obliterate every last human and hybrid on Earth. But the lines between good and bad have blurred, and love has become an emotion that could destroy her—could destroy them all.
Daemon will do anything to save those he loves, even if it means betrayal.
They must team with an unlikely enemy if there is any chance of surviving the invasion. But when it quickly becomes impossible to tell friend from foe, and the world is crumbling around them, they may lose everything— even what they cherish most—to ensure the survival of their friends…and mankind.
War has come to Earth. And no matter the outcome, the future will never be the same for those left standing.
MY THOUGHTS…
Everything had started with Dawson and Beth.

And everything ended with Daemon and me.
I still can't believe it, but the Lux series has finally ended, and it ended in a seriously freaking awesome way!
The Opposition is one of the most anticipated closures in book series. It brings out epic, soul-crashing, adrenaline-rushing action scenes that are seriously what I've expected in the book.
Every scene in Opposition sends goosebumps on my skin. And of course, Katy and Daemon's relationship never really gets boring, as ever! And it's pretty impressive because given that this series is composed of five books in total, I should've got used to their sweet moments, but honestly, that's not what I've felt the entire time they're together. It seems like their relationship is growing more and more interesting… and comforting at the same time. They're simply the most adorable book couple I've come across, I could cry!
It didn't matter how many hours, days, months, or years we had stretched out in front of us; we'd always be together. This kind of love was the real deal, stronger than a whole planet full of psycho aliens and an entire government.
I also love how Daemon and Katy got through all these situations. Their painful experiences all the way made them become stronger. I love their character development– how Katy deals with everything and how she learns to combat the enemies with her striking, undiscovered powers.
"Damn, Kitten, you're badass, almost scary, and yet so freaking hot."
And Daemon– well, he's Daemon. And you already know how hot and awesome he is!
What I also love about this book is that it keeps me going on and on right from the start. At the first chapters, there's already enough action that seems to come straight out of a movie.
I also love the twist. The Arum! Oh my God. I seriously didn't think that the Arum are going to make a huge part in this book. *clap clap clap*!
Everything in Opposition is phenomenal and all-consuming. It's absolutely full of awesomeness! And Jennifer L. Armentrout's writing? Freaking beautiful and flawless! Not to mention the humor that really makes me LOL all over. Hands down! I couldn't say anything else but I really admire how great she is in drawing her readers to the world she is creating.
Right now, I'm in a book hangover. Literally. And it sucks. I know I can't get over with this for a real long time. I, for sure, am going to miss Daemon and Katy. 😦
Will there be any book better than this? Right now, I guess there's none. Yet. I seriously don't want to let go! It's like Daemon is breaking up with me. Alright, I think I'm getting crazy already. Lol.
My Rating for this Book: As usual, 5 Awesome Daemon stars! (It's the best book conclusion in a series, positively 100%)