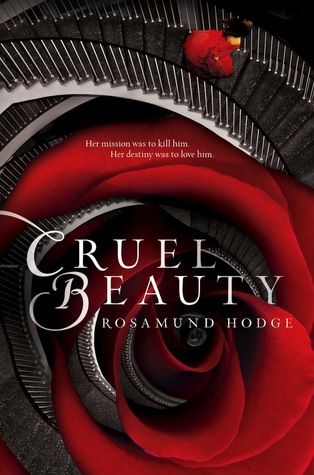 Cruel Beauty
(Cruel Beauty Universe)
Author: Rosamund Hodge
Publisher: Balzer + Bray
Published: January 28, 2014
Genre: Fantasy, Young Adult, Romance
My Rating:
Graceling meets Beauty and the Beast in this sweeping fantasy about one girl's journey to fulfill her destiny and the monster who gets in her way-by stealing her heart.
Based on the classic fairy tale Beauty and the Beast, Cruel Beauty is a dazzling love story about our deepest desires and their power to change our destiny.
Since birth, Nyx has been betrothed to the evil ruler of her kingdom-all because of a foolish bargain struck by her father. And since birth, she has been in training to kill him.
With no choice but to fulfill her duty, Nyx resents her family for never trying to save her and hates herself for wanting to escape her fate. Still, on her seventeenth birthday, Nyx abandons everything she's ever known to marry the all-powerful, immortal Ignifex. Her plan? Seduce him, destroy his enchanted castle, and break the nine-hundred-year-old curse he put on her people.
But Ignifex is not at all what Nyx expected. The strangely charming lord beguiles her, and his castle-a shifting maze of magical rooms-enthralls her.
As Nyx searches for a way to free her homeland by uncovering Ignifex's secrets, she finds herself unwillingly drawn to him. Even if she could bring herself to love her sworn enemy, how can she refuse her duty to kill him? With time running out, Nyx must decide what is more important: the future of her kingdom, or the man she was never supposed to love.
MY THOUGHTS…
"Tomorrow I will marry a monster…"
Cruel Beauty is one of the most beautiful tales I've ever read. It's a wonderful retelling of Beauty and the Beast. To be honest, I do not consider myself a fan of Beauty and the Beast but this book has made me love it.
Cruel Beauty highlights the character Nyx Triskelion, a seventeen year old girl who was destined to marry the Gentle Lord (lord of demons) before she was even born. She grew up beautiful, but what's even beautiful about her is her imperfections. She was born as a pawn, sent by his father to marry an enemy– a demon, so as to kill him and save their people. But how can she accomplish such a thing when she herself, is fighting her inner demons?
What I love about this book is that it totally doesn't define a perfect, flawless character. Nyx is a beautiful girl, but true to its title, she has a poison in her heart– a cruel beauty that she is constantly battling. And that is something that makes this tale really fascinating.
"I love you more than any other creature, because you are cruel, and kind, and alive."
This quote is probably one of the best and unforgettable lines I've read in a book. It's so deep and beyond passionate.
The story itself is something you will not consider ordinary. The Gentle Lord, Ignifex, is a beguiling character. He is full of mystery and he is beautiful in a cryptic way. The plot is also beautifully written. Rosamund Hodge chooses a writing style that is classy and all-consuming that it draws me perfectly.
And what's even more interesting is how she incorporates Greek mythology in her plot. It's really out of the ordinary, the author had me speechless all throughout.
And not only that. This book also teaches life lessons. Good things in life are not easily and not instantly achieved through bargains without some painful exchange. I think the book delivers that beyond measure.
The romance thing is also lovely. Nyx and Ignifex shares feelings that are utterly deep in an imperfect, mystifying way.
"I think I'm wicked enough to love a demon."

"That's what makes you my favorite." He reached up and wiped a tear off my cheek with his thumb. "Every wicked bit of you."
The story is totally unpredictable. I think I could not easily get this book off my mind, to be honest. It has a twist that is mind-blowing! And the ending? Superb and phenomenal! This book is totally worth reading!
My rating for this Book: 5 stars