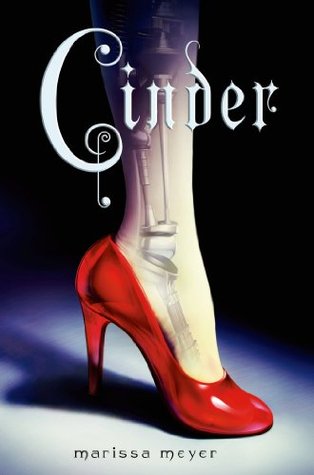 Cinder
(The Lunar Chronicles #1)
Author: Marissa Meyer
Publisher: Feiwel & Friends
Published: January 3, 2012
Genre: Fantasy, Science Fiction,
Young Adult, Dystopia, Romance
My Rating:
Humans and androids crowd the raucous streets of New Beijing. A deadly plague ravages the population. From space, a ruthless lunar people watch, waiting to make their move. No one knows that Earth's fate hinges on one girl.
Cinder, a gifted mechanic, is a cyborg. She's a second-class citizen with a mysterious past, reviled by her stepmother and blamed for her stepsister's illness. But when her life becomes intertwined with the handsome Prince Kai's, she suddenly finds herself at the center of an intergalactic struggle, and a forbidden attraction. Caught between duty and freedom, loyalty and betrayal, she must uncover secrets about her past in order to protect her world's future.
MY THOUGHTS…
I have high expectations with Cinder, especially that most of my goodreads friends really love it. I found this book really promising since I've never encountered a cyborg character before and for me, it's something that I won't ever forget. But then, I guess I expected way too much. I tried. Honestly. But it didn't really meet my expectations. *sigh*
However, there are factors that also make this book wonderful. I love Marissa Meyer's imagination. I love how she created a lively concept of a dystopian world. Cybors. Androids. Insanely high technology. Lunars. New world after world war IV. Wow! I mean, the concept is really impressive.
But in the long run, I was a bit disappointed. I didn't expect myself to develop annoyance with the main character Cinder. I love her character, I love how unique she is as a cyborg, but when it comes to the way she acts, I kind of dislike her. There is no consistency with her emotions. I'm upset how vulnerable she is whenever her stepmother and stepsister is around. But whenever she's with the Prince, she's so firm with her decisions to say 'NO' every time. She always declines the prince's invitation and she's acting so difficult like ugh! I also don't like the way she's acting like a brat to Dr. Erland when this man is the only person who can give her much information about her past. There are also times when she jokes around and for me it sounds like a sarcasm. No, I don't like her personality at all.
Prince Kai, however, is a nice character. I love how tough he is when it comes to decision-making. He doesn't even feel scared with the Lunar Queen. So, yeah, thank goodness he's not annoying.
During the first chapters, I really hoped that something great will happen in the long run. Um, I don't know but the twist– that wasn't what I've expected. Well, maybe on the second book everything will turn out great. And hopefully Cinder's character will improve by then. 🙂