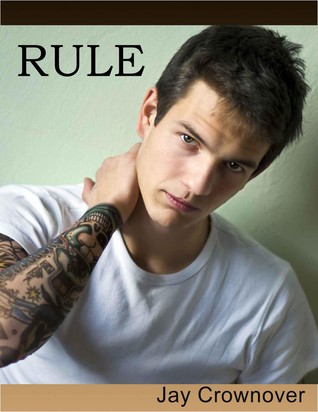 Rule
(Marked Men #1)
Author: Jay Crownover
Publisher: Jay Crownover Books
Published: December 30, 2012
Genre: New Adult, Romance, Contemporary
My Rating:
Opposites in every way . . . except the one that matters
Shaw Landon loved Rule Archer from the moment she laid eyes on him. Rule is everything a straight-A pre-med student like Shaw shouldn't want—and the only person she's never tried to please. She isn't afraid of his scary piercings and tattoos or his wild attitude. Though she knows that Rule is wrong for her, her heart just won't listen.
To a rebel like Rule Archer, Shaw Landon is a stuck-up, perfect princess-and his dead twin brother's girl. She lives by other people's rules; he makes his own. He doesn't have time for a good girl like Shaw-even if she's the only one who can see the person he truly is.
But a short skirt, too many birthday cocktails, and spilled secrets lead to a night neither can forget. Now, Shaw and Rule have to figure out how a girl like her and a guy like him are supposed to be together without destroying their love . . . or each other.
MY THOUGHTS…
I picked this book out of so many New Adult books in my tbr because it seems promising. And seriously, I love books that are with male protagonists with sexy, bad-boy image. Given the fact that this book also has high ratings, why not?
Rule is the first book of Marked Men series. We get to be introduced by the sexy, tattoo artist named Rule here– a guy who grew up with family issues because of the tragic history that happened to his twin brother Remy. Then there is this girl named Shaw, a medical college student who always had a thing for Rule since she was 14. The thing is, she was close to Remy and everyone in Rule's family assumed that she and Remy were sort of an item– not knowing exactly that Shaw is secretly in love with Rule.
This book is potentially good, I guess… If only I have no issues.
But then, I simply could not totally like it. Why? It's because of the characters.
First, let's talk about Rule. This guy is sexy as hell. With all those tats and piercings– well, he's a guy every girl in the corner wants to hook up with. At first, I really adored him. But when I've read more and more chapters, my adoration for him slowly died. He's so not worth it! I don't like the way he's so full of himself, like"hey, I'm bad and sexy, girls. Want to f*ck with me? Come and get me" I have nothing against man-whore male leads but then this guy– he just ruined my good impression on him. He's total jerk in a literal way. And so immature. All right, he has some issues I get it but to text his girlfriend "I kissed some chick last night"? WTF? If I were Shaw, I would not only destroy my phone after reading that text from him. I would freaking destroy his face!
And oh, I hate it when he always compare Shaw to his previous conquests. Like, how Shaw is much better in bed than his previous one-night-stand girls, and how she's even sexier. Alright, Shaw is sexy and perfect and that should be it. Why bring up the EXes?
And now on to Shaw.
Shaw is what you can consider an ideal girl. Pretty, smart, rich, decent, and a medical student at that. Perfect. But then, she constantly disappoints me. All throughout the book I was groaning inwardly or rolling my eyes because she's such a love sick woman who is willing to cross everything just to be with Rule and it's just not right. She's playing martyr which does not sit well on me because I think she's too good for Rule. And when Rule openly admitted to cheating on her and she just instantly forgive him? WTH?
And here's her line that made me raise some serious eyebrows:
"Even if I hadn't been on the pill, having a moment of wild, uninhibited and totally unprotected sex with him was most definitely worth any of the risks that were involved with that."
Holy sh*it! That guy has serious sexual histories with different girls– night after night– and you could say THAT? You mean, you're ok getting STD because he's worth it? Oh, no!
Because of that, the book did not gain thumbs up from me. I was mostly busy rolling my eyes at the immaturity of them. Maybe the next books of this series are better but I'm not so sure if I will pick them up soon. Maybe– maybe not.
I still give it 2 stars, however, because I enjoyed the first parts of it. 🙂
Rating: 2 Stars