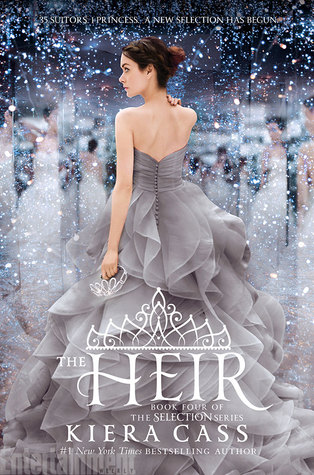 The Heir
(The Selection #4)
Author: Kiera Cass
Publisher: Harper Teen
Published: May 5, 2015
Genre: Young Adult, Romance, Dystopia, Science Fiction
My Rating:
Twenty years ago, America Singer entered the Selection and won Prince Maxon's heart. Now the time has come for Princess Eadlyn to hold a Selection of her own. Eadlyn doesn't expect her Selection to be anything like her parents' fairy-tale love story. But as the competition begins, she may discover that finding her own happily ever after isn't as impossible as she always thought.
MY THOUGHTS…
"You can be brave and still be feminine. You can lead and still love flowers. Most importantly, you can be queen and still be a bride."
Highly entertaining, unpredictable, and royally fabulous. This book nailed what a highly enjoyable sequel should be. I like this book as a whole. The only downside I found was Eadlyn's attitude. *smirks
I have to admit I had a hard time liking Eadlyn at first because she's bratty, spoiled, and quite obnoxious but as the story went by, I witnessed her remarkable character development and I was glad somehow. 🙂
The whole story revolves in the Selection process where Eadlyn chooses a husband out of 35 gentlemen. The best thing about the book is how you can never predict who among her suitors will win her heart, because you basically live in her POV. By the way, there are lots of guys you will be torn.
This book, as a whole, lives up to my expectations. 🙂 But to be honest, I like The Selection series far better than this book. I like America's conquest to win Maxon's heart. 🙂 But still, The Heir is a great read. If you've been a fan of The Selection series, I recommend you to read this sequel. 🙂
Rating: 4 Stars